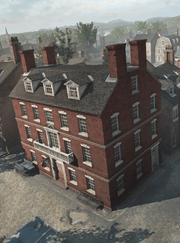 The Bunch of Grapes was a tavern located in Boston during the Colonial era.
The tavern served as the meeting place of the Sons of Liberty during the American Revolution, and became popular because of its proximity to the Old State House and its library filled with anti-British books.
Reference
Edit
Ad blocker interference detected!
Wikia is a free-to-use site that makes money from advertising. We have a modified experience for viewers using ad blockers

Wikia is not accessible if you've made further modifications. Remove the custom ad blocker rule(s) and the page will load as expected.