Bugs/Assassin's Creed II
Talk

1
4,594pages on
this wiki
Throughout Assassin's Creed II, a number of bugs could be encountered, which are listed below.
Minor bugs
Edit
These bugs were either temporary, graphical, or restricted to specific situations.
Airwalking
Edit
Using this glitch, Ezio could walk through air by going on top of a large building and sprinting. If a knife was thrown just before reaching the edge, he would continue to run, even though there was no visible solid surface under his feet. It could also occur for a short time if he jumped between the stern of the gondola and the man steering it.
Auditore cape
Edit
When equipping the Auditore cape in the Monteriggioni Villa, Ezio became notorious even though the cape's description stated otherwise.
Cavalier dual-wielding
Edit
PC: If Ezio picked up a sword or a mace while he already had one, and mounted a horse, he would not drop the weapon that had been picked up. If the horse was made to walk, then Ezio would try to put the weapon in the sheath but would immediately bring it back out.
Climb leap
Edit
When performing a climb leap on a sloped surface such as one of the church towers in Venice, Ezio sometimes fell instead of actually grabbing on to the tiles or stones.
Doctor's light
Edit
A floating orb of light was noticed during night time on the doctor's roof in Monteriggioni. This was similar to the lighting found in lamps.
Double weapons
Edit
It was possible to be stuck with a weapon that had been picked up. This occurred when Ezio attempted to counter a Brute with such a weapon, but instead, disarmed the Brute, leaving Ezio holding both weapons. The Brute's weapon could be dropped, but the weapon that had been picked up previously became fixed to Ezio's hand, and remained so even while running or climbing. Ezio could not attack or switch weapons; he could only block or flee.
Duplicating archers
Edit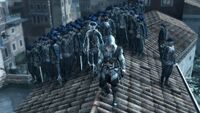 Sometimes in Venice, rooftop archers would randomly duplicate. However, the cloned archers would all act like ordinary guards on the ground, and would not attack Ezio on sight, only attacking him when he performed an illegal action. At first only one clone would attack Ezio, but gradually, more would join the fight and cause major lag. The duplicated archers were very quick to give up on a chase however, and Ezio could escape them by simply walking away. The duplicates would disappear whenever he left the area. This glitch was confirmed to occur on PS3, Xbox 360, and PC, and has not been patched.
360: As a result of a similar glitch, an unaware archer would stop moving, and duplicates of the archer would proceed to literally walk out of it and attack Ezio. This was confirmed to happen in Venice.
Fire-breather
Edit
If a Carnevale performer was about to blow fire upwards near a merchant stand, Ezio could grab anyone nearby and throw them into it. Everyone near it died, including the performer, but fire continued to blow from his mouth.
Floating Ezio
Edit
If Ezio was standing on a wooden candelabrum, and moved towards the edge of it, then hung from the candelabrum, and finally dropped onto a small ledge (like thin walls or wooden beams), he would "float" along with the swinging candelabrum as if he was still standing on it.
Glitched ground
Edit
Sometimes, while walking normally (particularly in Florence), Ezio would suddenly stop and look down, similar to how he acted if he was looking over the edge of a building. It could be solved simply by pulling back and walking away a few feet or simply jumping over the area in question.
Gondola corpse
Edit
Dropping a dead body onto a gondola, if it stayed in the boat and did not bounce out, caused amusing glitches if the gondola was then rowed away. The ragdoll seemed to crawl through the boat and eventually into the water.
Headless guard
Edit
Sometimes, when an archer was killed and thrown off a rooftop, the archer's head would get stuck to the wall of the building. A similar effect could be observed after killing a Seeker in combat, with his head being stuck in the ground.
Hyper-blending
Edit
While blending, if Ezio traveled onto a different surface such as water, or a wall, he remained blended as long as he remained on the respective surface.
Immortal doctor
Edit
In the south of Florence, a doctor, when killed, would get back up. Repeatedly striking the doctor forced him so far away from his original spot (which should be out of sight) that he would get back up and not walk back. If Ezio walked back to the original spot, the doctor would teleport back to his initial position.
Interrupted assassination
Edit
If an archer shot Ezio during a cinematic assassination, the would-be target would not die but would rather simply stand there. Zooming in on the guard's face would show he was not dead, as he blinked and moved his head slightly. However, he could not be killed or unfrozen. It would be as if he had become part of the landscape. Weapons also went through him and he would not participate in any fights.
Killing civilians
Edit
On some occasions if Ezio ran up to a herald and killed him, the civilians that were standing in front of the herald would not move. It was possible to kill them without getting any warnings. Their bodies could be looted but not moved. Within a minute or two, the warnings could take effect, resulting in de-synchronization in the case of killing three or more civilians.
Lost weaponry
Edit
Sometimes when countering an attack with a medium weapon, it became a part of the enemy's left hand with the hilt facing up. There was no way to get it back from him; Ezio would have to re-equip it in the Villa armory.
Ezio would also drop any hand-held weapon equipped when bribing a herald if, in the short gap between pressing "Bribe" and the small cut-scene of the transaction, the weapon was drawn out of its sheath. The dropped weapon lay at the herald's feet and could be picked up.
Another variant of this occurred very rarely, when after killing a group of enemies, the weapon would be dropped instead of being put back in its sheath. It could be remedied by simply picking up the weapon.
In Venice, If Ezio grabbed onto boxes and white sheets beside a building and moved toward the wall, he went through the wall and would not be able to exit the building on occasion. This glitch could be solved by ripping a poster off the wall if Ezio was not anonymous.
Rarely, when fighting guards in Florence Ezio fell through boxes and walked through hay carts.
Standing on a horse
Edit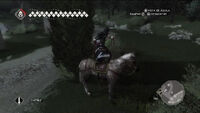 Sometimes when pressing the Unarmed hand button, Ezio, instead of getting off the horse, will make a jumping animation from the horse, but remain standing upon it.
Super speed
Edit
Though the cause was unknown, a glitch could be encountered which made climbing and diving faster than normal. This returned in Assassin's Creed: Brotherhood.
Swimming thug
Edit
360: Sometimes, If a Pazzi thug falls or is pushed into water, instead of drowning he will tread water.
Tilted character
Edit
In the Memory Corridor, alternating left and right at quick, timed intervals would eventually cause Desmond or Ezio to tilt at an odd angle. They would also remain tilted the next time the Memory Corridor was accessed. This could be easily fixed by moving in a different direction.
Water down below
Edit
Ezio and NPCs sometimes became stuck beneath the map if pushed into water.
Well portal
Edit
In San Gimignano, sometimes if Ezio fell into a certain well, the screen would turn grey for a few seconds, and he would emerge from a well on the other side of the city
Major bugs
Edit
These bugs either caused the game to freeze or crash, or disrupted gameplay significantly, requiring the restarting of the memory, or reloading a save to be resolved.
Armor of Altaïr
Edit
While wearing Armor of Altaïr, the game crashed when performing multiple consecutive double assassinations.
Glitched Glyphs
Edit
360 & PS3: After a glyph had been solved and the unlocked coded message had appeared, if the A and B buttons for the 360, or the X and O buttons on the PS3 were pressed repeatedly and quickly, the video appeared in full screen, and the game would be stuck there.
Memory Corridor
Edit
The game would rarely crash during transitions involving the Memory Corridor.
Unnatural bleeding
Edit
360: Rarely, a glitch would cause bloodstain textures on Ezio's robes to recursively load, eventually causing his clothing to turn a flat semi-gloss red. This would lag the system within seconds and cause it to crash within a minute. This glitch was officially patched, according to some online forums, but continued to occur occasionally.
The appearance of this glitch usually signaled a type of hardware error, though specific action sequences caused it to occur as well. The only method to fix this glitch was by resetting the game or exiting to the Dashboard, before the rapidly-recurring texture-loads caused the game to crash.
Palazzo Medici
Edit
If the "Airwalk" glitch was used to land on the roof of the Palazzo Medici, something not possible by normal means, the interior could be examined. The walls inside were plain and had no windows. If Ezio jumped through the opening and went inside, he would be trapped inside with no way out.
Memory-specific bugs
Edit
These bugs only occurred during certain memories, and were often minor in their impact.
Boys Will Be Boys
Edit
Occasionally, Ezio will be equipped with an invisible Hidden Blade during Boys Will Be Boys, which disappears afterwards.
Sibling Rivalry
Edit
Rarely, during Sibling Rivalry, Federico would disappear or freeze immediately after the race began. This made it impossible to complete or restart the memory. Restarting the game would solve this.
Friend of the Family
Edit
It is possible, during Friend of the Family, to lead Maria and Leonardo to the Arno and drown both of them. Once Ezio returned with the paintings to the Palazzo Auditore, they would respawn for the cutscene, Maria would appear perfectly normal, but Leonardo would be floating on his back in a curved position with his arms and legs in the air, and appear soaking wet, as if he were still in the water.
Casa Dolce Casa
Edit
During Casa Dolce Casa, Monteriggioni's doctor would sometimes duplicate. Buying medicine from the duplicated doctor and then exiting the screen would cause the training screen to activate, despite the fact that training was unavailable. Monteriggioni's blacksmith would sometimes duplicate as well. When the memory was completed, the duplicates would disappear.
What Goes Around
Edit
Once Ezio had killed Vieri de' Pazzi during What Goes Around, and Mario Auditore was talking to him, another Mario could sometimes be seen standing on a roof in the background.
Novella's Secret
Edit
PC: During Novella's Secret, Killing the Agile guard before he reached the next guard post caused a blank cut-scene at the entrance to the Assassin Tomb, trapping Ezio. The only way to fix this was to restart the memory.
Wolves in Sheep's Clothing
Edit
PS3: In Wolves in Sheep's Clothing, during the cutscene, Giuliano has been known to become invisible after first being stabbed by Bernardo Baroncelli, leading to Francesco de' Pazzi quite entertainingly straddling, yelling at and stabbing thin air.
Town Crier
Edit
PC: Antonio Maffei would occasionally not spawn during Town Crier. This could be resolved by restarting the memory.
With Friends Like These
Edit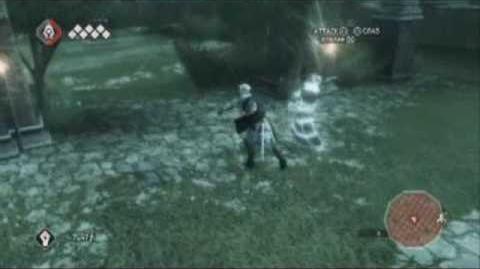 A glitch could be encountered which made it possible to kill Jacopo de' Pazzi without completing With Friends Like These. This could be done by using a sword or a dagger to kill Jacopo, from a distance where the Animus' HUD read "Attack" instead of "Interact". The memory could still be completed normally even if the body was moved, by returning to the location and interacting with the space where the body originally lay.
Romagna Holiday
Edit
In Romagna Holiday, during extremely rare cases, the game would freeze while Ezio was fighting the guards after the carriage chase.
That's Gonna Leave a Mark
Edit
Sometimes the civilians knocked down by Rosa during That's Gonna Leave a Mark would "float".
By Leaps and Bounds
Edit
Under specific situations during open conflict in By Leaps and Bounds, the game would crash.
Clothes Make the Man
Edit
Instead of leaving the gondola at the end of Clothes Make the Man, Ezio could jump on the gondola's bow instead. This caused the memory to end, but the gondola did not disappear. If the gondola was used afterwards, it would vanish after leaving a certain area but Ezio would act as though he was still using it and would float over the water. If he traveled too far, Ezio eventually dropped into the water.
If At First You Don't Succeed...
Edit
Occasionally, while talking to Ezio during If At First You Don't Succeed... Antonio would teleport to random and even unreachable places.
Infrequent Flier
Edit
Occasionally upon de-synchronization, Infrequent Flier would restart with Ezio atop Leonardo's workshop rather than the tower.
Cheaters Never Prosper
Edit
It was possible to kill Dante Moro during Cheaters Never Prosper and thereby to raise suspicion after stealing the mask. However, this had no other effects and Dante would appear alive in subsequent memories.
Having a Blast
Edit
Staying in the area for a prolonged period of time during Having a Blast would allow Ezio to fight Dante. However, the Assassin was unable to kill him, though he could be lured to an area such as the docks, and be pushed into the water, killing him instantly. As with the previous memory, this had no other effects and Dante would appear alive in subsequent memories.
Two Birds, One Blade
Edit
In the memory Two Birds, One Blade, while fighting Dante and some guards, it was possible to climb L'Arsenale and kill Silvio Barbarigo, who strangely, was floating.
Play Along
Edit
In some cases after the completion of Play Along, quitting before the next sequence loaded would cause a major glitch. Upon loading the game, Desmond would be unable to access the Animus, and would be stuck inside the Hideout.
The Bonfire of the Vanities
Edit
If a Rooftop Garden had been used to hide after killing any of Savonarola's 9 lieutenants, after the memory had been completed, Ezio would be unable to leave the rooftop he was on.
In Bocca Al Lupo
Edit
Sometimes during In Bocca al Lupo, if he was hit with rocks by the guards while climbing, Ezio would fall through the texture, and the memory would have to be restarted to fix the problem.
Visitazione's Secret
Edit
Occasionally, after locking onto the Agile with the gun, the controls would freeze. Also, jumping to a certain point on rare occasions allowed Ezio to go out of the level with the only re-entry to the game being a restart.
Reference
Edit