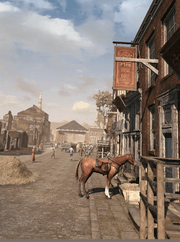 Broadway is a street in New York.
History
Broadway is one of the oldest streets in New York which got its name from a literal interpretation. The road was literally a broad way. Around the 1700s, Broadway ended at New York's common and was most known for its Theatre District; however, at the time shows were not plentiful and typically it was a dangerous place to venture to.
Today, Broadway starts at Bowling Green and goes all the way to Manhattan.[1]
Trivia
References