Ad blocker interference detected!
Wikia is a free-to-use site that makes money from advertising. We have a modified experience for viewers using ad blockers

Wikia is not accessible if you've made further modifications. Remove the custom ad blocker rule(s) and the page will load as expected.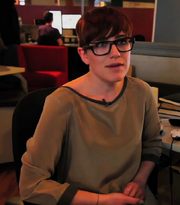 Brianna Code is an Associate Lead AI Programmer at Ubisoft Montreal. Her additional role on the Assassin's Creed team is to help coordinate the AI team, such as the programmers, animators and designers.
Games credited
Edit
Warhammer 40,000: Dawn of War (2004) - THQ
Warhammer 40,000: Dawn of War (Game of the Year Edition) (2005) - THQ
Company of Heroes (2006) - THQ
Company of Heroes (Collector's Edition) (2006) - THQ
Assassin's Creed II (2009) - Ubisoft
Assassin's Creed: Brotherhood (2010) - Ubisoft
Assassin's Creed III (2012) - Ubisoft
Child of Light (2014) - Ubisoft
External links
Edit