Ad blocker interference detected!
Wikia is a free-to-use site that makes money from advertising. We have a modified experience for viewers using ad blockers

Wikia is not accessible if you've made further modifications. Remove the custom ad blocker rule(s) and the page will load as expected.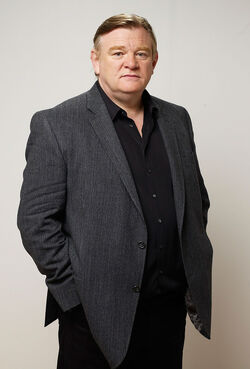 Brendan Gleeson (born 29 March 1955) is an Irish actor who will be portraying Joseph Lynch in the upcoming Assassin's Creed movie.
Gleeson has been a fixture in Hollywood period pieces and action-adventure films since 1995's Braveheart, appearing in other epics like Troy, Kingdom of Heaven alongside Jeremy Irons, and Beowulf, but is perhaps best known for playing Mad-Eye Moody in the Harry Potter series.
He has also played leading roles in The Guard, Calvary, In Bruges and Into the Storm; his portrayal of Winston Churchill in the last of these earned him an Emmy Award. Gleeson is a frequent collaborator with director John Michael McDonagh, and is also the father of actors Domhnall and Brian Gleeson.
Assassin's Creed worksEdit
Assassin's Creed (2016) - Joseph Lynch
External link
Edit