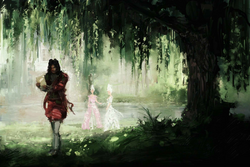 Breda is a city in the province of Noord-Brabant, in the south of the Netherlands.
During his exile, Prince Charles II of England spent some time in Breda, where he received letters from an anonymous person about their progress on reclaiming the English throne for Charles.[1] In 1748, Maria van Antwerpen, under the name Jan van Ant, sent a message from Breda to Achilles Davenport in which she refused his offer to join the Colonial Brotherhood of Assassins due to her commitment to the Dutch Army.[2]
References
Edit
Ad blocker interference detected!
Wikia is a free-to-use site that makes money from advertising. We have a modified experience for viewers using ad blockers

Wikia is not accessible if you've made further modifications. Remove the custom ad blocker rule(s) and the page will load as expected.