Boston
Talk

8
3,886pages on
this wiki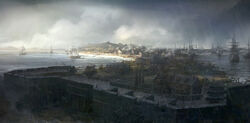 Boston is a city in the United States, and the capital city of Massachusetts. During the American Revolution, Boston was an important location to both the American and British armies, and was frequently visited by the Assassin Connor.
French and Indian War
Edit
In 1754, the Templar Haytham Kenway came to Boston to find a Precursor site, and gathered Charles Lee, William Johnson, Thomas Hickey, Benjamin Church, and John Pitcairn to help him. The Templars stayed at the Green Dragon Tavern. Haytham sought to win the trust the Kanien'kehá:ka to locate the site, and began this by freeing natives enslaved by Silas Thatcher at Southgate Fort. In his spare time, Haytham befriended Benjamin Franklin at the local general store. A year later, after Kaniehtí:io led Haytham to the site, Haytham returned to the Green Dragon Tavern to induct Lee into the Order.[1]
Boston Massacre
Edit
In 1770, Haytham and Kaniehtí:io's son Ratonhnhaké:ton, and his mentor Achilles Davenport, travelled to Boston to buy supplies for their mansion. During the trip, Achilles chose "Connor" to be the boy's alias. After purchasing their supplies, a protest began outside the Old State House. Connor spotted his father and was ordered to follow his accomplice onto the rooftop. Connor stopped the man from firing his rifle, but on the opposite roof, Lee fired a shot, prompting the British soldiers to fire on the crowd. Haytham spotted Connor and pointed him out to a Grenadier, so Connor fled. Samuel Adams found Connor and helped him leave the city by advising he tear down his wanted posters, and showing him how to bribe town criers and printer shops, before taking him to a harbor.[1]
American Revolution
Edit
In 1773, Connor returned to Boston to find William Johnson, as he was seeking to purchase the land where Connor's village was located. Adams and William Molineux informed him of the tea taxes Johnson was exploiting to gain the money for the purchase, so Connor blew up Johnson's smuggled tea, and then participated in the Boston Tea Party. In the meantime, he recruited Stephane Chapheau, Duncan Little and Clipper Wilkinson into the Assassins.[1]
In 1775, Connor aided the Sons of Liberty again to find John Picairn, meeting with Paul Revere at his home before the Midnight Ride. Connor eventually assassinated Pitcairn at the Battle of Bunker Hill, outside Charlestown, north of Boston.[1]
In 1782, Connor tracked Charles Lee to Boston, and chased him through a shipyard. Both men were wounded and rendered unconscious during the chase, but Lee managed to wake up first and took a ship to Monmouth.[1]
Modern day
Edit
After recovering a power source for the Grand Temple from New York City, Desmond and William Miles, Shaun Hastings and Rebecca Crane had dinner at the Green Dragon Tavern in Boston on November 17, 2012.[2]
Boston Underground
Edit
Boston contained 10 secret entrances within an underground network created by the Freemasons, which served as a means of fast travel, and could be found throughout the city, or by travelling through the underground.
Samuel Adams led Connor to the first underground entrance after the Boston Massacre.
When in the underground, Connor was equipped with a lantern. This lantern could be used to light torches throughout the tunnel system. Exploring these tunnels led Connor to more entrances which Connor could use to travel to various parts of the city. To open a secret entrance, Connor had to find it from underground. Once it was discovered, a puzzle had to be completed. Puzzles could include picking a lock, spinning 3 to 5 locks until they aligned, or using a magic lantern to allocate certain symbols into a certain orientation. When using the magic lantern, there were clues that, when analyzed, contained instructions regarding how the Freemasons had to be.
References
Edit