Here we seek to open the minds of men.


This article is a stub and is in need of expansion. You can help the Assassin's Creed Wiki by expanding it.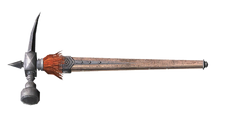 Blunt weapons were weapons used by those who wished to inflict bone-breaking damage against opponents. They were commonly wielded by guards and members of the Assassin Order.
Blunt weapons, much like swords, possessed long reach, great power, and a quick attack rate. As such, they could be seen as some of the most balanced weapons available.
Blunt weapons have been a highly common and frequently used selection of weaponry in the art of warfare, and have seen action in the millennia-long Assassin-Templar War. The earliest known use of blunt weapons by the Assassins was during the early 13th century, by the Levantine Assassins of Masyaf.[1]
Statistics
Edit
15th century
Edit
16th century
Edit
Constantinople and Derinkuyu
Edit
18th century
Edit
British Colonial America
Edit
In Assassin's Creed: Brotherhood, Ezio could perform pistol executions with blunt weapons, though they used the same animations and sounds as swords did.
References
Edit
Ad blocker interference detected!
Wikia is a free-to-use site that makes money from advertising. We have a modified experience for viewers using ad blockers

Wikia is not accessible if you've made further modifications. Remove the custom ad blocker rule(s) and the page will load as expected.