Blowpipe
Talk

0
3,875pages on
this wiki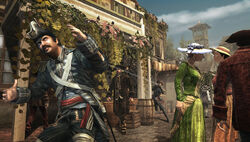 The blowpipe was a weapon that was used by Assassins such as Edward Kenway and French-African Aveline de Grandpré. First belonging to the Assassin François Mackandal, the blowpipe was given to Aveline by her Mentor, Agaté.
Used as a silent and deadly weapon, the blowpipe functioned in a similar way to poison darts. Aveline possessed two different types of ammunition for the blowpipe, the first would kill quickly, while the other would have caused a slower and more dramatic death.
Assassin's Creed III: Liberation
The "Deadly Haystack" achievement could be earned by killing 50 enemies from a haystack using the blowpipe.
The "Predator" achievement could be earned by killing an enemy with the blowpipe from a tree whilst using Eagle Vision.
Reference
Edit