Where are the paintings?


This article is in need of more images and/or better quality pictures in order to achieve a higher status. You can help the Assassin's Creed Wiki by uploading better images on this page.
"You should feel honored. These days, the Bastille is reserved for madmen, deviants, and traitors."
―Bernard Laroche to Arno Dorian, 1789.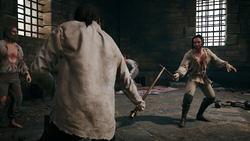 Bernard Laroche was a French counterfeiter imprisoned in the Bastille.
Laroche was imprisoned along with fellow counterfeiters Jean Antoine Pujade, Jean Béchade and Jean de la Corrège. By May 1789, Laroche shared his cell with Arno Dorian and the Assassin Pierre Bellec. As Bellec duelled Arno, Laroche and the other prisoners would spectate, betting on both constestants.
Following the Storming of the Bastille in 1789, Laroche and the counterfeiters were freed. However, almost immediately after, they were imprisoned at Bicêtre.
Reference
Ad blocker interference detected!
Wikia is a free-to-use site that makes money from advertising. We have a modified experience for viewers using ad blockers

Wikia is not accessible if you've made further modifications. Remove the custom ad blocker rule(s) and the page will load as expected.