Benjamin Church
Talk

0
3,880pages on
this wiki

"It's all a matter of perspective. There is no single path through life that's right and fair and does no harm."
―Benjamin Church.
Benjamin Church (1734 – 1778) was a member of the Colonial Rite of the Templar Order, and served as Surgeon General of the Continental Army until 1778, at which point he defected to the British Army.
Serving under Grand Master Haytham Kenway, Church aided the Templars in establishing a permanent presence in the Thirteen Colonies and personally eliminated Silas Thatcher. Church also took part in the campaign to take down fellow Templar Edward Braddock, and continued serving the Order in the following years.
After spending several years with the Continental Army, Church betrayed both the Patriots and the Templar Order to join the British Army in 1778. Haytham Kenway forged a temporary alliance with his Assassin son Ratonhnhaké:ton to take down Church. Church was killed by Ratonhnhaké:ton aboard a vessel off the coast of Martinique, after being brutally interrogated by Kenway.
Biography
Edit
Early life
Edit
Church attended Harvard University where he studied medicine and surgery. He chose being a doctor believing it to be the most profitable profession. Soon after he graduated in 1754 and became a qualified and talented physician, residing in Boston.
Templar beginnings
Edit
"I made a promise to you, Silas - one I intend to keep."
―Church to Silas before executing him.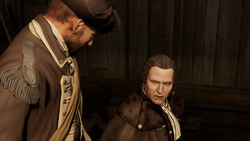 Church also became affiliated with the Templar Order and was to be recruited by Haytham Kenway. However, due to his wealth, Church was abducted and tortured by Silas Thatcher, a notorious slaver, and Cutter for protection money. Haytham and Charles Lee discovered Church's home ransacked, hence searched for his whereabouts by eavesdropping on guards and witnesses to his abduction, leading them to a warehouse on a nearby pier. Church refused to be extorted by Silas and promised to kill him for torturing him. Silas left Church in Cutter's care, who threatened to cut off Church's tongue, ears, hands and even castrate him. Cutter sliced Church's left nostril but was saved by the arrival of Kenway and Lee.
At the Green Dragon Tavern, Church had his nostril sewn up. He was grateful to Haytham for rescuing him and gave him information regarding Silas. After recruiting John Pitcairn, Church, along William Johnson, Thomas Hickey and Lee participated in Haytham's a plan to infiltrate Southgate Fort, murder Silas and free the Kanien'kehá:ka slaves. By freeing the captive slaves, Haytham would be able to gain favor with the Kanien'kehá:ka in order to gain information that would lead them to the mysterious Precursor Site.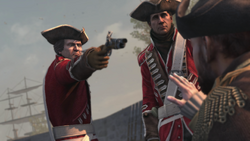 Church and the others proceeded to ambush a slave cart transport, killing the escorts, disguising themselves in their uniforms and escorted the cart to the fort. Inside the fort, Haytham stealthily freed the slaves while Church and the others blended with and distracted the guards. However, upon realizing that the slaves had escaped, Silas raised the alarm. Church and the others triggered a battle, fending off the guards while Haytham attacked and wounded Silas. Church approached the wounded and kneeling Silas, shooting him in the head, fulfilling his vow for vengeance. Haytham and the others freed the remaining slaves.
In 1755, Church assisted in the assassination of General Edward Braddock, attacking the latter's expedition to Fort Duquesne. In the resulting chaos and confusion, Haytham assassinated Braddock and in the aftermath discovered the location to the Precursor Site. Haytham soon after inducted Lee into the Templar Order and changed their mission to establish a permanent presence and influence in colonies.
In 1770, Church was at Martha's Vineyard, talking with Nicholas Biddle to recruit him into the Templar order. While doing so he was interrupted by Connor, demanding to know where Charles Lee was. Church warned off Connor, further causing a brief confrontation between Biddle and Robert Faulkner. Though the argument was cut short by Amanda Bailey's intervention.
Betraying the Order
Edit
"Benjamin Church is no brother of mine. No more than the Redcoats or their idiot king."
―Haytham to Connor, regarding Church
By 1775, Church joined the Continental Army, commissioned as Chief Physician and head of the medical wing. By then, he was very wealthy and owned a mansion that was later seized and ransacked in order to pay for the Continental Army's war drive.
Church was caught spying for the British. However, Church insisted that he was innocent by claiming that he gave falsified information to British to deter their attacks. Church was imprisoned and upon his release he abandoned both the Continental Army and Templar Order. Church, and a group of other defecting Templars, stole a large supply of weapons and medicine from a convoy for the Continentals and intended to defect to the British Empire.
Church suspected that Haytham would kill him for this betrayal, hence ordered several men to help guard and escort the stolen supplies out of Valley Forge as well ambush and kill Haytham. However, Church was also pursued by Connor, a member of the Assassin Brotherhood, who had formed a temporary alliance with Haytham, his father, in order to kill Church and retrieve the supplies for George Washington that Church had stolen.
Haytham and Connor tracked Church to a warehouse in New York, only to realize that they were set up by a decoy and into a trap. They defeated the guards before the impostor told them that the real Church had fled to Martinique aboard the naval ship Welcome before he was killed by Haytham.
"We had a DREAM, Benjamin! A dream you sought to DESTROY! And for that, my fallen friend, you will be made to pay."
―Haytham to Benjamin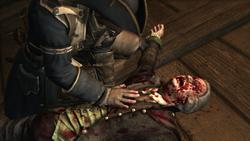 Despite being a few days ahead, the Aquila, captained by Connor, was able to catch up to the Welcome, finding it abandoned. A Schooner vessel then lured the Aquila into open waters and into an ambush, while Church attempted to escape aboard another Man-of War. However, the Aquila destroyed the escorts and disabled Church's ship by destroying the ship's mast.
Haytham then took control of the Aquila, forcing it into the Man-of-War in order to board the ship. Haytham caught up with Church below deck and proceeded to brutally beat to death as punishment, enraged by his betrayal. Connor intervened and swiftly ended Church's life by impaling him through the chest. After first refusing, Church revealed the location of the supplies, stashed on a nearby island. Church died rebuking Connor with his final words, arguing that there is no such thing as a righteous cause.
Personality and characteristics
Edit
Church was an intelligent, resourceful and cunning man and a highly valued member of the Templars. To support this, Charles Lee described Church as "a finder and fixer".
However, Church was a highly self-serving and duplicitous man, despite his years as a surgeon and as part of the Templar Order, Church's only motivation was personal gain. Church pursued a career as a surgeon believing it to be the most profitable profession and that people would pay any price to ensure their lives and health. He had little to no actual concern for the well being of his fellow man and was quick to dismiss those who could not afford his services, fulfilling the unethical doctor stereotype by ignoring his Hippocratic oath. Church was also married but neglected his wife and pursued another woman.
To further support his treacherous nature, Church played both sides of American Revolutionary War, but even betrayed his true loyalties to the Templars. His final words to Connor suggest that he ultimately became disillusioned with the Templars' cause and saw neither side of those fighting in the Revolutionary War as just. Nonetheless he chose to side with the British Empire for personal gain.
Final words
Edit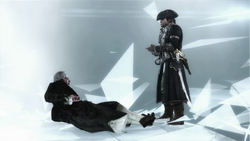 Connor: Where are the supplies you stole?
Benjamin: Go to hell.
Connor stabbed Benjamin with the Hidden Blade.
Connor: I ask again: where are the supplies?
Benjamin: On the island yonder, awaiting pickup. But you've no right to it. It isn't yours.
Connor: No, not mine. Those supplies are meant for men and women who believe in something bigger than themselves. Who fight and die that one day they might be free from tyranny such as yours.
Benjamin: Are these the same men and women who fight with muskets forged from British steel? Who bind their wounds with bandages sewn by British hands? How convenient for them. We do the work. They reap the rewards.
Connor: You spin a story to excuse your crimes. As though you're the innocent one and they the thieves.
Benjamin: It's all a matter of perspective. There is no single path through life that's right and fair and does no harm. Do you truly think the Crown has no cause? No right to feel betrayed? You should know better than this, dedicated as you are to fighting Templars - who themselves see their work as just. Think on that the next time you insist your work alone befits the greater good. Your enemy would beg to differ - and would not be without cause.
Connor: Your words may have been sincere, but that does not make them true.
Historically speaking, Benjamin Church's title "Dr. Benjamin Church" made him the first Surgeon General of the Continental Army serving as the 'Chief Physician & Director General' of the Medical Service from July 27, 1775 to October 17, 1775.
Reference
Edit