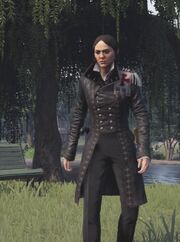 Beatrice Gribble (unknown – 1868) was a British Templar, living in London at the time of the Industrial Revolution.
Gribble dreamed of joining British high society, and becoming one of Queen Victoria's ladies-in-waiting. Having been denied for the position several times, Gribble joined the Templar Order, announcing her plans to kill the Queen's consort.
The Assassin Henry Green provided Jacob and Evie Frye with several Templar targets, including Gribble, which led to her assassination on the grounds near Buckingham Palace.
Reference
Ad blocker interference detected!
Wikia is a free-to-use site that makes money from advertising. We have a modified experience for viewers using ad blockers

Wikia is not accessible if you've made further modifications. Remove the custom ad blocker rule(s) and the page will load as expected.