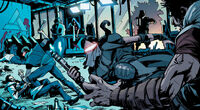 Barindra Mitra (d. 2017) was an Assassin and the leader of a cell in Asia.
In February 2017, in Hong Kong, Barindra's cell assisted Charlotte de la Cruz in her efforts to gather informations about the Templars' Phoenix Project. Infiltrating an office of Abstergo in a skyscraper, which had in fact been abandoned by the Templars, the Assassins were ambushed by an unidentified group. Barindra and her cell were all killed with only de la Cruz and the tech expert, Guernica Moneo, escaping.
References
Edit
Ad blocker interference detected!
Wikia is a free-to-use site that makes money from advertising. We have a modified experience for viewers using ad blockers

Wikia is not accessible if you've made further modifications. Remove the custom ad blocker rule(s) and the page will load as expected.