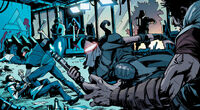 Barindra Mitra (d. 2017) was an Assassin and the leader of a cell in Asia.
In February 2017, in Hong Kong, Barindra's cell assisted Charlotte de la Cruz in his efforts to gather informations about the Templars' Phoenix Project. Infiltrating an office of Abstergo in a skyscraper, which had in fact been abandoned by the Templars, the Assassins were ambushed by Jasdip Dhami's group. Barindra and his cell were all killed with only de la Cruz and the tech expert, Guernica Moneo, escaping.
Trivia
Barindra is a male name of Indian origin, meaning ocean in Sanskrit. The last name Mitra is of Indo-Iranian origin meaning friend, named after the Hindu god of friendship.
References