Badr
Talk

3
3,879pages on
this wiki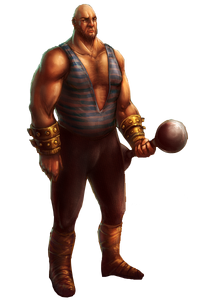 Badr was a circus "giant", and a friend to Fajera.
After she was pursued by the Assassin Altaïr Ibn-La'Ahad, Fajera called on Badr to stop him from interrogating her, to which he faced the Assassin in battle, wielding a large axe.
Altaïr managed to overcome Badr, but during their duel, the circus tent they had been fighting in collapsed. Altaïr was able to escape to pursue Fajera, but Badr was left trapped under the rubble, with his fate unknown.
Badr, بدر, is Arabic for "full moon."
Reference
Edit