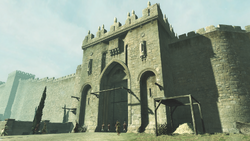 The Bab Ariha, also known as the Gate of Jericho, was one of the eight ancient gates in the wall of Jerusalem. The Bab Ariha was the main entrance to the city and directly led into its Rich District. In addition, it was the most heavily guarded gate.
Trivia
Bab Ariha is Arabic, composed of the words bab, meaning "door, gate", and ariha, meaning "scent".
Gallery
Reference
Ad blocker interference detected!
Wikia is a free-to-use site that makes money from advertising. We have a modified experience for viewers using ad blockers

Wikia is not accessible if you've made further modifications. Remove the custom ad blocker rule(s) and the page will load as expected.