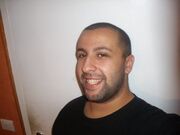 Aymar Azaïzia is the Head of Assassin's Creed content at Ubisoft. As such, he works with various creative teams to ensure brand consistency and developed and maintained merchandising and licensing partnerships.
Previously, he was both an international product manager and a community developer at Ubisoft and worked exclusively on the Assassin's Creed franchise.
Games credited
Edit
External links
Edit
Ad blocker interference detected!
Wikia is a free-to-use site that makes money from advertising. We have a modified experience for viewers using ad blockers

Wikia is not accessible if you've made further modifications. Remove the custom ad blocker rule(s) and the page will load as expected.