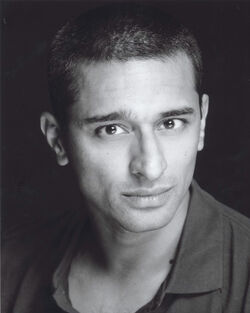 Avin Shah (born 1971) is an actor and writer based in London. He provided the voice and motion capture for Maharaja Duleep Singh in Assassin's Creed: Syndicate.
Shah has appeared on stage, in film, tv series and radio shows. He has also featured in films such as Full Firearms, Born of War and Everest, while television shows in which he has appeared include Waterloo Road, Perceptions and Dumping Ground.
Shah has done voice work for Bobbies on BBC4 and also wrote and acted in Subterranean Sepoys, a radio drama about the Indian Army's experiences of fighting on the Western Front. He is currently developing said drama into a stage play. Shah has collaborated with Tara Arts with support from the Heritage Lottery Fund and National Theatre and reached the final of the Film London's Borough Film Fund Award in 2012 and 2013.
Assassin's Creed worksEdit
Assassin's Creed: Syndicate (2015) - Duleep Singh
Shah was born in Tanzania.
The role of Duleep Singh that Shah played in Syndicate was initially codenamed 'Albert'.
External links
Edit
Ad blocker interference detected!
Wikia is a free-to-use site that makes money from advertising. We have a modified experience for viewers using ad blockers

Wikia is not accessible if you've made further modifications. Remove the custom ad blocker rule(s) and the page will load as expected.