Aveline de Grandpré
Talk

119
3,875pages on
this wiki
"I stand with those who stand with me. I lure my prey through the guise of a lady. I escape unnoticed through the veil of a slave. And though I may conceal my identity, one thing is certain: commit injustice in this world, and I'll send you to the next. I am Aveline de Grandpré, I am an Assassin, and I fight for liberation."
―Aveline de Grandpré.
Aveline de Grandpré
Biographical information
Born

20 June 1747
New Orleans, French Louisiana

Political information
Affiliations
Real-world information
Appears in
Voice actor
Aveline de Grandpré (1747 - unknown) was an Assassin of French and African heritage, who lived in the area of New Orleans towards the end of the French and Indian War.
Born to the wealthy French merchant Philippe Olivier de Grandpré and an African slave by the name of Jeanne, Aveline was raised in a comforting and privileged environment. In 1759, she took it upon herself to free a slave and was caught by sailors employed by the man's owner. However, she was rescued by an Assassin called Agaté, who recruited Aveline into the Assassin Brotherhood and became her Mentor.
Biography
Edit
Early life
Edit
"On seeing her, he falls to his knees. He says he is ashamed. He begs forgiveness for keeping me enslaved all this time. He vows to grant us both our freedom."
―Jeanne, reflecting in her diary about Philippe's reaction to the birth of his daughter Aveline.
Aveline was born in 1747 to Philippe Olivier de Grandpré, and his African placée bride, Jeanne. Granted freedom along with her mother at birth, Aveline grew up in a caring and considerate environment, protected by her father's wealth and influence within the city. Although her father married Madeleine de L'Isle in 1752, Aveline and her mother Jeanne were allowed to stay at the de Grandpré mansion.
In 1759, whilst Aveline was accompanying her mother through the city, Jeanne mysteriously vanished after Aveline had let go of her hand in pursuit of a loose chicken. After failing to catch the animal despite chasing it for quite a distance, Aveline realized that she had stumbled across a slave auction. Shortly after observing the slave trader, Aveline used the alleyways to evade the sight of the slavers surrounding the stage and seek out her mother, only to reach out and touch the wrong woman, who had been dressed in the same attire as her mother.
This mistake caught the attention of the city guards, and despite her cries for her mother, Aveline was pushed to the ground by the slavers, who had mistaken her for a slave child. Shortly afterwards, an escaped slave by the name of Agaté freed her from their possession, and recruited her into the Assassin Order, becoming her Mentor.[1]
Assassination of Governor d'Abbadie
Edit
"The Order... is... the... future. The... the Templars will keep our colony... French."
―Governor d'Abbadie's final words.
In 1765, Aveline discovered that the Templar Rafael Joaquín de Ferrer was working with Louisiana's French governor, Jean-Jacques Blaise d'Abbadie, in slave trading enterprises. Aveline disguised herself a slave and infiltrated the governor's mansion during a social soirée.
After eavesdropping on a meeting between the governor and de Ferrer, she uncovered their deal to ensure d'Abaddie remained as governor provided he smoothed the hand-over of the colony to the Templars and supplied de Ferrer with workers for a secret Templar operation in Mexico. Aveline subsequently assassinated the governor, who claimed in his final words that the Templars would keep the colony under French influence.[1]
Conflict in the Louisiana Bayou
Edit
"Deep in the bayou, a dangerous impostor spreads real roots [...] Who is this impostor, and what are his affiliations? This, you will need to uncover."
―Agaté, informing Aveline of the arrival of an impostor in the bayou.
The following year, Aveline investigated the Louisiana Bayou for a man impersonating the deceased François Mackandal, an Assassin and Mentor to Agaté. She enlisted the help of smugglers Roussillon and Élise Lafleur and began navigating the bayou in search of Mackandal's men. After eliminating both of his followers' encampments, Aveline and Élise uncovered a sacred ceremony being held by Mackandal on the Eve of Saint John.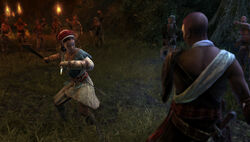 Aveline tracked Mackandal down, discovering his real name was Baptiste along with his plans to seize control of smuggling operations in the bayou, poison the nobles of New Orleans and force Agaté out of hiding and deliver him to de Ferrer, who promised Baptiste membership into the Templar Order in return.
Aveline confronted Baptiste but was hit by his poison dart as she attempted to kill him. However, she managed to recover from the poison due to an antidote she had ingested beforehand. Aveline overpowered Baptiste's bodyguards and assassinated him. In his final words, he revealed that her knew both her mother Jeanne, and her Mentor, Agaté.
Upon returning to Agaté, however, Aveline did not mention what she had discovered to him, as she did not fully trust her Mentor, given that he had kept this information hidden from her.[1]
Louisiana Rebellion
Edit
"This Spanish "gouverneur" has placed so many restrictions on trade, even plantation owners are practically "begging" for an excuse to riot."
―Gérald, about the laws implemented by Spanish governor Antonio de Ulloa.
The same year, the Spanish governor and Templar adviser Antonio de Ulloa arrived in New Orleans. In 1768, he placed strict trade laws and restrictions over the colony in order to benefit the Templar Order. In response, French Creoles rebelled against de Ulloa's regime.
During this time, Aveline discovered vagrants and slaves disappearing. In response, she forced Governor de Ulloa to leave La Balize where he had taken shelter from the rebels and travel to New Orleans, where she ambushed him. Upon interrogating the governor, Aveline learned that slaves taken from New Orleans were being transferred south, to Mexico.
Against Agaté's orders, however, Aveline chose not to kill de Ulloa, allowing him to flee the city in return for a lens used to decipher encoded Templar documents, a map leading to the worksite at Chichen Itza and the promise of de Ulloa to go into exile. This merciful act continued to harm Aveline's already damaged relationship with her Mentor.[1]
Journey to Chichen Itza
Edit
"You find pieces of the Prophecy Disk, saving me the effort... If you weren't my enemy, I would take you for my friend! Our aims must not be so different for all the help you give me."
―de Ferrer, explaining the similarity of his and Aveline's goals.
Following on from this, Aveline traveled to Chichen Itza, once again disobeying Agaté's explicit wishes, in order to unravel the mysteries of the slave trafficking operation. While there, she freed a rebellious slave who informed Aveline that a woman named Jeanne was stationed in Chichen Itza.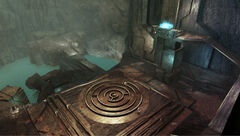 Convinced it was her mother, Aveline investigated and found evidence that her mother was indeed there. Among pages found from Jeanne's diary, Aveline discovered a map detailing the location of an ancient artifact deep within a cenote. With this in mind, Aveline navigated the underground cave system and uncovered ruins from the First Civilization, unearthing a fragment of the Prophecy Disk, a First Civilization artifact.
After obtaining the fragment, Aveline was met by de Ferrer, who she managed to kill before escaping through the mines he had entered through. At the end of the tunnels, she found her mother, Jeanne. However, this reunion was short-lived, as Jeanne, realizing that Aveline was an Assassin, refused to disclose any information to her and fled the mines.[1]
Tracking Vázquez
Edit
"I am aware. He bribes Spanish troops. But I already have plans to outwit them. I will use their superstition against them."
―Agaté, on his plans to outsmart the Spanish soldiers in the bayou.
After her escapades at Chichen Itza, Aveline returned to New Orleans and continued her search for the identity of the Company Man. She spoke to Gérald Blanc, fellow Assassin and trusted friend, who told her that someone was bribing Spanish soldiers.
Upon investigating, Aveline discovered that a man by the name of Vázquez was using Spanish soldiers to seize control of the bayou. After uncovering Vázquez's plan to take control of smuggling operations within the bayou, Aveline feared he would eventually learn the location of Agaté's hideout. She hurried to her Mentor's hut and warned him of the danger. Under his instruction, Aveline followed Vázquez's soldiers to each voodoo checkpoint set up by Agaté, silently poisoning enough of the Spanish troops so that the rest believed they had fallen under a voodoo curse and fled the bayou.
Following this, Aveline met with her smuggler allies, who informed her that Vázquez was attempting to divert a supply ship. In response, Aveline disabled the lighthouse on Lake Pontchartrain, causing the ship to run aground on a nearby island. Afterwards, Aveline and the smugglers set out to plunder its cargo. They successfully defeated Vázquez's guards and reached the ship, where Aveline discovered evidence that resulted in her decision to return to Mexico.[1]
Return to Chichen Itza
Edit
"I traded one enemy for another. And they will not rest until they have what they seek."
―Jeanne, on the Templars' pursuit of the Prophecy Disk.
In 1772, Aveline returned to Chichen Itza to locate the second half of the Prophecy Disk. Upon arriving there, she made peace with her mother, who gave Aveline a map leading to a canoe that was left inside another cenote. Using it, Aveline navigated through the caves and came upon another chamber constructed by the First Civilization, where she acquired the final piece of the Prophecy Disk.
Afterwards, Aveline offered to take her mother back to New Orleans, but Jeanne decided it was best to stay behind and take care of the community in Chichen Itza, which was free of Templar influence, thanks to Aveline's intervention.[1]
Aiding George Davidson
Edit
"Futile murder... beautiful death. She... will make you suffer."
―Vázquez, on the identity of the Company Man.
In 1773, Aveline's father fell ill, though she continued in her quest to uncover the identity of the Company Man, Louisiana's head Templar. At the request of Madeleine, her stepmother, Aveline helped a slave named George escape New Orleans and travel to the bayou. Upon arriving there, she asked if her smuggler allies could help provide George safe passage through the swamp, but Élise and Roussillon were already in the process of delivering supplies from the Spanish to American Patriots fighting in the Revolutionary War and were facing opposition from rogue Spanish soldiers under the command of Vázquez.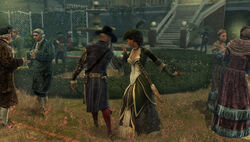 However, with the aid of Aveline and George, the smugglers managed to hold back the Spanish troops and successfully reached their destination. Aveline asked the Patriots if they would allow George to accompany them to the North. They agreed and accepted him into the ranks.
Aveline returned to New Orleans and attended a soirée, confident that Vázquez would be there. After locating the Templar, she charmed him and lured him to a quiet corner, where she assassinated him. However, to Aveline's surprise, Vázquez revealed that he was not the Company Man, and that Louisiana's head Templar was in fact a woman. That same night, her father passed away.[1]
Journey to New York
Edit
"Who do you serve? And do you really think yourself free? "Charity should begin at himself," Miss Aveline."
―Officer Davidson, about Aveline's position as an Assassin.
In the winter of 1777, Aveline traveled to New York to locate a Templar named Officer Davidson, who was working for the Company Man. Upon arriving there, she encountered the Native American Assassin, Ratonhnhaké:ton, also known by his adopted name of Connor.
Whilst Connor distracted Davidson's guards, Aveline infiltrated the fort where he was located and confronted the Templar. To her shock, Aveline discovered that his true identity was George, the slave she had helped flee north. After his attempted escape, which she foiled, Aveline finally uncovered the true identity of the Company Man from him: Madeleine de L'Isle, her stepmother.[1]
Severing ties with Agaté
Edit
"Oh, what have I wrought? I should have stayed with your mother. You should have been my child. Raised as a daughter, not twisted into this... monster!"
―Agaté, reflecting on his relationship with Aveline's mother.
Aveline returned to New Orleans and confronted Madeleine, who did not deny her accusations and admitted that she had known all along that Aveline was an Assassin. Furious, Aveline refused her order to stay and ran outside, only to face her guards. After a brief skirmish, Madeleine told Aveline that she'd be sacrificing herself for nothing.
Following this, Madeleine insisted that she genuinely loved her and that Aveline had been kept alive so far in order to eliminate the unethical elements of her Templar circle, an obvious ploy to persuade Aveline to join the Templars.
After this, Aveline made her way to the bayou and told Agaté of her situation. However, her Mentor could not accept his failure to protect his student, and, believing that Aveline had aligned herself with the Templars, attacked her. Even so, Aveline defeated him and chose to spare his life, but Agaté, unable to live with the humiliation, dove from the very top of his treehouse to his death.[1]
Confrontation with Madeleine
Edit
"In the service of humanity! In Work, the purpose for which you were created. We were created! The highest purpose."
―Madeleine, attempting to convince Aveline that the Templars' work benefited the greater good.
Aveline made her way back to New Orleans and gave Agaté's necklace to Madeleine, as proof of his death, which she had obtained when she unsuccessfully attempted to save him. Madeleine then inducted Aveline into the Templar Order and took the two halves of the Prophecy Disk from her. However, upon the artifact failing to work as Madeleine had expected it to, she grew frustrated, allowing Aveline to strike, as her induction was merely a ruse to destroy the Templars from within.
Aveline assassinated all of the Templars present, leaving Madeleine for last. As she lay wounded, Madeleine asked Aveline why she would betray her as she had. Aveline coldly retorted that she had two parents whom she truly loved, and that Madeleine was not one of them. She then blamed her for killing her father with her "care" and her tonic, secretly foxglove, for enslaving her mother, and for her intention of making Aveline a slave to the Templar cause.
To this, Madeleine insisted that it was for the greater good of humanity, as work had always been the "divine purpose" for which they had been created. In response, Aveline defiantly claimed that she would never be forced to serve another and assassinated Madeleine afterwards. Following this, she recovered the Prophecy Disk and used the necklace her mother had entrusted her with to activate it, which projected a hologram of beings from the First Civilization, who spoke about Eve briefly in a conversation before it ended.[1]
Personality and characteristics
Edit
"I seek liberty and freedom, not for myself, but for those whom such fundamental rights are denied. I am their shield, their sword, their only hope. The roads I travel are dark, but they bring me closer to the light."
―Aveline de Grandpré.
As she grew, Aveline developed into an independent and strong-willed woman, who was often torn about the values she had inherited from her parentage, which compelled her to form her own core beliefs. Since a young age, Aveline began to notice the contrasts in society - wealth and poverty, freedom and slavery - and as an Assassin, she firmly strived towards securing humanity's freedom and imposing justice.
As a consequence of her being pulled in either direction by the Assassins and Templars, she questioned whether fighting as an Assassin was the right thing to do or not. While in New York, she asked her fellow Assassin, Connor, if he ever questioned their ideals; he responded without taking side with either faction, but rather explained that he trusted in his own abilities to distinguish right from wrong.[1]
Equipment and skills
Edit
Aveline was a skilled free-runner, who was able to navigate with ease through the urban cityscape and natural landscape, such as the Louisiana Bayou. Her fighting style included dual-wielding various weapons, including a whip, firearms, swords, knives, a blowpipe, a sugar-cane machete and Hidden Blades.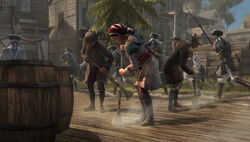 Aside from her weapons, Aveline possessed three distinct personas that she could make use of, composed of the Lady, Assassin, and Slave. Her Assassin outfit aided in combat and navigation, though it made her notorious; her Slave outfit allowed her to blend into the poorer masses of New Orleans and remain undetected, although was weaker in combat; and finally, her Lady outfit allowed Aveline to use her charm and bribery to achieve her goals, although it limited her weaponry and prevented her from free-running.
Along with Aveline's Lady outfit was a parasol designed by her friend and ally, Gérald Blanc, that had the ability to shoot small poison darts from its tip, similar to her blowpipe. Accompanying this, Aveline possessed the sixth sense casually referred to as Eagle Vision, allowing her to identify enemies, allies, targets, hiding spots and clues.[1]
Aveline possessed similar characteristics to Desmond Miles and his ancestors, Altaïr Ibn-La'Ahad and Ezio Auditore da Firenze, namely the same scar on their upper lip, and the ability to use Eagle Vision. Despite this, she had no known biological connection with him or his lineage.
Aveline is the first female protagonist in the Assassin's Creed series and one of two playable characters to have worn a hat instead of the symbolic white hood of the Assassins (the other being Haytham Kenway), though it retained a beak-shaped tip.

However, an Assassin hood is purchasable from tailors, which can be equipped on Aveline's Assassin persona.

The name Aveline is a diminutive form of the name Avila, itself from Germanic element avi, the meaning of which is uncertain, but thought to be "desired." Similarity to the Latin avis, "bird," is a coincidence.
"Grandpré" is a French surname meaning "grand meadow."
While concept art depicts Aveline as having green eyes, they appear to be dark brown in Assassin's Creed III: Liberation.
References
Edit