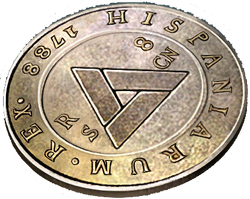 Assassins' coins were coins smuggled into New Orleans and the Louisiana Bayou by foreign smugglers.
It became available to collect in the sequence 4 and can be found only if Aveline is in Assassin Persona.
To collect the coins, the player must identify the smuggler using eagle vision and kill him in order to loot the coins.
During her career as an Assassin, Aveline de Grandpré beat up smugglers throughout Louisiana to acquire the coins, amassing a vast collection.
Trivia
References
Ad blocker interference detected!
Wikia is a free-to-use site that makes money from advertising. We have a modified experience for viewers using ad blockers

Wikia is not accessible if you've made further modifications. Remove the custom ad blocker rule(s) and the page will load as expected.