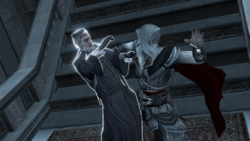 Assassination targets were individuals that the Assassin Order – and in select instances, the Templar Order – deemed worthy of elimination. Over the centuries, the Assassins killed many individuals they believed to be corrupt and a danger to humanity, particularly Templars and their associates.
Below is a chronological list of notable victims, by faction and assassin responsible.
Elimination by Assassins
Edit
Altaïr Ibn-La'Ahad
Edit
Around the time of the Third Crusade, Altaïr Ibn-La'Ahad assassinated various individuals during his quest to find the Chalice in 1190. He later eliminated nine tyrannical public figures in an effort to restore his lost rank and regain honor within the Assassin Order.
Following his ascension to Mentor of the Order, he carried out several assassinations to aid the Cypriot Resistance in 1192, and continued to eliminate notable targets throughout his life.
Ezio Auditore da Firenze
Edit
During the Renaissance, the Assassin Ezio Auditore da Firenze eliminated various individuals in order to avenge the death of his family members, free the Spanish Assassins, and liberate the Italian city-states – Florence, San Gimignano, Forlì, Venice and Rome – as well as the Ottoman city of Constantinople and Byzantine underground outpost of Derinkuyu from corruption.
After the Great Rites Controversy which resulted in the decimation of the Chinese Assassins at the hands of the Eight Tigers, Shao Jun assassinated the Templars responsible in a campaign to free China and restore the Chinese brotherhood.
Edward Kenway
Edit
Edward Kenway assassinated several individuals during the Golden Age of Piracy in his quest for riches and glory as a pirate, and later in service of the Assassin Order.
During the early 18th century, Adéwalé served as quartermaster on Edward Kenway's ship before eventually joining the Assassin Brotherhood and assuming the captaincy of his own vessel.
In 1735, he briefly set aside his duties as an Assassin in order to aid the Maroon rebellion in Saint Domingue.
Aveline de Grandpré
Edit
Aveline de Grandpré assassinated various targets between the French and Indian War and American Revolutionary War in an effort to free New Orleans from Templar influence and liberate victims of the slave trade.
Ratonhnhaké:ton
Edit
Before, during, and after the events of the American Revolutionary War, the Assassin Ratonhnhaké:ton, son of the Templar Haytham Kenway and grandson of pirate turned Assassin Edward Kenway, eliminated various Templars in order to protect his tribe and further the pursuit of freedom for the citizens of the thirteen colonies of the United States.
Following a meeting with George Washington, Ratonhnhaké:ton found himself in an alternate reality created by an Apple of Eden. There, he assassinated several individuals while experiencing the alternate timeline.
Arno Dorian
Edit
Following the death of his adoptive father, the Templar Grand Master François de la Serre, Arno Dorian joined the Assassin Brotherhood and embarked on a quest to find the perpetrators of the murder and their motivations.
While pursuing his own agenda, Arno also undertook several missions in order to thwart the efforts of the Templars, who tried to take control of the French Revolution.
Jacob and Evie Frye
Edit
The twins Jacob and Evie Frye were active in London and its surrounding areas in 1868 as the Industrial Revolution reached its climax. Here, they fought against the inequality and poverty engineered by the Templars, taking over organized crime in the city in an effort to destabilize the Templars' hold over it and stop them from acquiring a powerful Piece of Eden. Later Evie was active in the hunt for Jack the Ripper
Unknown:
Lydia Frye
Edit
During World War I, Lydia Frye allied herself with Winston Churchill to take down a German-Templar spy network led by a Sage.
Nikolai Orelov
Edit
During the Russian Revolution, Nikolai Orelov served his Order faithfully, rising to the rank of Master Assassin before growing disillusioned and leaving the order.
Desmond Miles
Edit
Following his kidnapping by Abstergo Industries and training with the Assassins, Desmond Miles was forced by Juno to assassinate Lucy Stillman in the Colosseum Vault for her secret defection and betrayal. He later infiltrated the Abstergo Industries headquarters in Rome and assassinated two prominent members of their Order.
Other Assassins
Edit
Below is a chronological list of other notable assassinations, by century and, if known, Assassin responsible:
Elimination by Templars
Edit
Haytham Kenway
Edit
Son of the Assassin Edward Kenway, Haytham was converted to the Templar cause at a young age by Reginald Birch. A member of the British Rite, he later became the Grand Master of the Colonial Rite.
Shay Cormac
Edit
Formerly a member of the Colonial Assassins, Shay Cormac later became a famous Assassin hunter after he joined the Templar Order, pursuing his former Assassin brothers and sisters.
Daniel Cross
Edit
Brainwashed from an early age by the Templar-led Abstergo Industries, Daniel Cross served as a sleeper agent inside the Assassin Order and betrayed them leading to the decimation of the Assassins.
Other Templars
Edit
Below is a chronological list of other notable assassinations, by century and, if known, Templar responsible:
Survivors
Edit
In carrying out their missions, some Assassins notably spared potential victims, or otherwise did not complete an assassination as directed. The following is a chronological list of targets known to have survived encounters with Assassin or Templar attackers:
Maria Thorpe – spared by Altaïr Ibn-La'Ahad, 1191[3]
Tomás de Torquemada – escaped from Ezio Auditore da Firenze, 1492[8]
Rodrigo Borgia – spared by Ezio Auditore da Firenze, 1499[6]
Micheletto Corella – spared by Ezio Auditore da Firenze, 1503[10]
Vali cel Tradat - escaped an attack from Ezio Auditore da Firenze and one of his recruits, 1511[1]
Cyril of Rhodes - escaped an attack from Ezio Auditore da Firenze and one of his recruits, 1511[1]
Lysistrata - escaped an attack from Ezio Auditore da Firenze and one of his recruits, 1511[1]
Mirela Djuric - escaped an attack from Ezio Auditore da Firenze, one of his recruits, and a trio of Romani, 1511[1]
Georgios Kostas - escaped an attack from Ezio Auditore da Firenze and one of his recruits, 1511[1]
An unspecified Ottoman Assassin - survived an ambush by Georgios Kostas, 1511[1]
Charles Vane – spared by Edward Kenway, 1719[15]
Woodes Rogers – survived attack by Edward Kenway, 1721[15]
Matthew Hague – spared by Edward Kenway, 1723[14]
Shay Cormac – failed by Assassins, between 1756 and 1760[32]
Achilles Davenport – spared by Haytham Kenway, 1760[32]
Antonio de Ulloa – spared by Aveline de Grandpré, 1768[17]
Benedict Arnold – failed by Ratonhnhaké:ton and Assassin apprentices, in 1780 and 1781[18]
Benjamin Franklin – spared by Ratonhnhaké:ton, in an alternate reality.[20]
Roi des Thunes – escaped three assassination attempts, 1791[22]
Jacques Roux – escaped an assassination attempt by three Assassins, 1794[22]
Alexander Burnes – spared by Arbaaz Mir, 1841
Alexander III of Russia - survived an assassination attempt by the Assassin Nikolai Orelov in 1894.[36]
Interceptions
Edit
On occasion, the Assassins and Templars saved individuals from being killed. The following is a list of targets, the individuals who wanted their death and the person that saved them:
Rashid ad-Din Sinan, Fahd El Fehmi, and Vahid Ahmedi – targeted by Haras, saved by Altaïr Ibn-La'Ahad, 1189[1]
Richard I of England – targeted by William of Montferrat, saved by Altaïr Ibn-La'Ahad, 1191[3]
Lorenzo de' Medici – targeted by Francesco de' Pazzi, saved by Ezio Auditore da Firenze, 1478[6]
Bianca Riario and Ottaviano Riario – targeted by Ludovico and Checco Orsi, saved by Ezio Auditore da Firenze, 1488[6]
Luis Santangel, Raphael Sanchez and Christopher Columbus – targeted by Templars, saved by Ezio Auditore da Firenze, 1492[8]
Claudia and Maria Auditore da Firenze - targeted by Cesare Borgia, saved by Ezio Auditore da Firenze, 1500[10]
Ezio Auditore da Firenze - targeted by Cesare Borgia, saved by Niccolò Machiavelli, 1500[10]
Nicolaus Copernicus – targeted by Templars, saved by Ezio Auditore da Firenze, 1500[10]
Desiderius Erasmus - targeted by Templars, saved by an Italian Assassin sent by Ezio Auditore da Firenze, 1500[10]
Prospero and Fabrizio Colonna- targeted by Borgia guards and Templars, saved by Ezio Auditore da Firenze, 1500[10]
Pantasilea Baglioni - targeted by Baron Octavian de Valois, saved by Ezio Auditore da Firenze, 1503[10]
Pietro Rossi – targeted by Micheletto Corella, saved by Ezio Auditore da Firenze, 1503[10]
Niccolò Machiavelli – targeted by La Volpe, saved by Ezio Auditore da Firenze, 1503[10]
Claudia Auditore da Firenze – targeted by Templars, saved by Ezio Auditore da Firenze and Niccolò Machiavelli, 1504[46]
Suleiman I – targeted by Byzantine Templars, saved by Ezio Auditore da Firenze and Yusuf Tazim, 1511[1]
Pachomius I of Constantinople – targeted by Cyril of Rhodes, saved by Ezio Auditore da Firenze, 1511[1]
Manuel Palaiologos, Shahkulu, and Byzantine soldiers - targeted by Tarik Barleti and Janissaries, accidentally saved by Ezio Auditore da Firenze, 1511[1]
Janos and other Ottoman spies - targeted by Manuel Palaiologos and Shahkulu, saved by Ezio Auditore da Firenze and Dilara, 1512[1]
Sofia Sartor and Azize - targeted by Ahmet, saved by Ezio Auditore da Firenze, 1512[1]
Bernard Kenway and Linette Kenway - targeted by Wilson, Tom Cobleigh and Julian, saved by Edward Kenway, 1712[14]
Opía Apito – targeted by Lucia Márquez, saved by Edward Kenway, 1716[15]
Rhona Dinsmore – targeted by Hilary Flint, saved by Edward Kenway, 1717[15]
Upton Travers – targeted by Vance Travers and Jing Lang, saved by Edward Kenway, 1717[15]
Augustin Dieufort – targeted by Pierre, Marquis de Fayet, saved by Adéwalé, 1735[16]
Louis Godin – targeted by pirates, saved by Adéwalé, 1736[16]
Benjamin Church – targeted by Cutter, saved by Haytham Kenway and Charles Lee[18]
David Borgen, Conan Brown, Michael Crawley, Randall Gordon, Franklin Greear, Maria Gurley, Lewis Johnson, Scott Lawson, Philippe Beaubien, Rachel Plourde, Kelly Snider – targeted by Assassins, saved by Shay Cormac, between 1756 and 1760[32]
Ratonhnhaké:ton – targeted by Charles Lee, saved by Haytham Kenway, 1776[18]
George Washington – targeted by Thomas Hickey, saved by Ratonhnhaké:ton, 1776[18]
Benjamin Franklin – targeted by criminals, saved by Shay Cormac, 1776[32]
Benjamin Franklin and Kanen'tó:kon – targeted by Israel Putnam, saved by Ratonhnhaké:ton, in an alternate reality[20]
Élise de la Serre – targeted by Templars, saved by Arno Dorian, in 1791[22]
Théroigne de Méricourt – targeted by Templars, saved by Arno Dorian, in 1789 and 1792[22]
Georges Danton – targeted by Royalists, saved by Arno Dorian, 1792[22]
Didier Paton – targeted by Maximilien de Robespierre, saved by Arno Dorian, 1794[22]
Napoleon Bonaparte – targeted by Royalists, saved by Arno Dorian, in 1795 and in 1800[22]
Hamid – targeted by Templars, saved by Arbaaz Mir, 1841
Benjamin Disraeli and Mary Anne Disraeli – targeted by Blighters, saved by Jacob Frye, 1868
Karl Marx – targeted by Blighters, saved by Jacob Frye or Evie Frye, 1868
Charles Darwin – targeted by Tenplars, saved by Jacob Frye or Evie Frye, 1868
Bob – targeted by Blighters, saved by Jacob Frye , 1868
Lucy Stillman - targeted by Abstergo guards, saved by Warren Vidic, 2000s[3]
William Miles – targeted by Daniel Cross and Warren Vidic, saved by Desmond Miles, 2012[18]
References
Edit