Assassination contracts
Talk

4
4,630pages on
this wiki
"Take these carrier pigeons for example. Each one sent from Machiavelli bears the name of an important Templar in Roma. Eliminate them and you will have more of an impact than a battle ever could."
―Pantasilea to Ezio Auditore.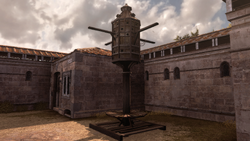 Assassination contracts were assignments given to the Assassins. The details of these contracts were generally sent via carrier pigeon, which was a method similar to the system that Rashid ad-Din Sinan once used to inform Rafiqs of Assassin's Bureaus.[1]
Before his induction into the Order, Ezio Auditore da Firenze carried out assassinations for Lorenzo de' Medici in the cities of Florence, Tuscany, Romagna, and Venice.[2] When he was a Master Assassin living in Rome, contracts were provided by Niccolò Machiavelli and relayed to him through Pantasilea Baglioni. Ezio could also provide contracts of his own for his Assassin recruits, so that they gained the experience necessary to progress through the Assassin Order.[3][4]
Upon being introduced to the Assassins, Edward Kenway could accept assassination contracts via pigeon coops.[5]
Edward's grandson, Ratonhnhaké:ton, carried out assassination contracts given to him through couriers, who identified the locations of Templars nearby, allowing him to complete them in his own time. He also gave his recruits contracts to fulfill, gaining them experience as they provided aid during the American Revolution.[6]
In Assassin's Creed II, during Memory sequences 13 and 14, as well as the succeeding free-roaming sequence, these contracts were still available, even though Lorenzo de' Medici had already died by that point. As it turned out, Ezio was also tasked to assassinate associates of various characters who had been dead for years by then.
In "Hunting the Hunter," the attacking guards bore Medici colors.

If Ezio looted the scarecrow target afterward, it yielded a set of keys.
References
Edit