Assassin's Creed walkthrough
Talk

14
3,886pages on
this wiki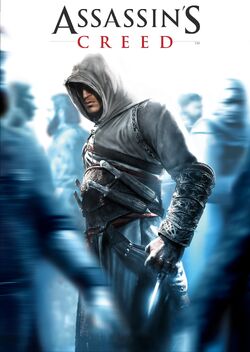 This article is a walkthrough of Assassin's Creed.
The game is split into seven sections known as Memory Blocks. The reasoning behind all of this is to give a realistic reason to why a game has "levels", being that Desmond must synchronize with the memory of Altaïr in order to access the memory that Abstergo Industries needs.
In between each Memory Block there will be an intermission where you take control of Desmond and explore your surroundings. There are many things that you can interact with, like your wardrobe, Lucy's and Warren's computers and Lucy herself.
Introduction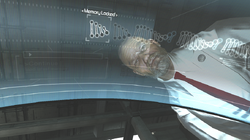 The game begins within the Animus, as Warren Vidic and Lucy Stillman attempt to anchor Desmond into the memory which holds the information Abstergo needs. Unfortunately, Desmond is unable to synchronize with the memory, so they must start with a much earlier memory that Desmond can more easily synchronize with, which is the start of the nine assassinations. Lucy and Warren will give Desmond some info about the Animus itself and the Genetic memory, before placing him in a tutorial simulation.
Animus Tutorial
The Animus will explain about the Synchronization, Controls, Social stealth, Blending, Eagle Vision and The Creed. Upon completing all the tasks, you will be transferred to the first Memory Block afterwards.
Memory Block One (September 2nd, 2012)
Now you begin as Altaïr underneath the Temple Mount in Jerusalem. You are accompanied by two Assassins, Malik and Kadar. You were sent by Al Mualim to retrieve an artifact.
The layout is pretty straight forward —just use the skills you've learned and jump across the pit. You will reach a ladder. Once you're at the top there will be a guard facing the opposite direction; this is the perfect time to get your first official assassination.
You will get a brief cutscene in the next room. Proceed to your left and downward. Don't worry, you don't need to be stealthy here, or assassinate anyone. Once you get close enough to the Templars a cutscene will initiate.
You are now in a room cut off from Malik and Kadar, so go the only direction you can—once at the end, start climbing. Soon after this the Animus will fast forward to a more recent memory.
Make your way through the area to the way point on your radar. Once there you will enter a cutscene showing your conversation with Al Mualim. You will inform him of the events that took place in Solomon's Temple. This will trigger the next part of the memory.
The Templars are attacking Masyaf! Basically all you have to do here is run through the village and engage combat with the Templars. Remember counterattacks are arguably the most useful of abilities in your arsenal. Hold down the High Profile button, and just as they swing at you hit the Armed Hand/Attack button (you will lose this ability in a little while; although you will get it shortly after). After reaching the end of the town you will hear that soon to be familiar message "Fast forwarding to a more recent memory".
Follow your fellow assassin up the ladders. He will tell you to proceed to the platform. Here you will enter a cutscene with Al Mualim talking to the Templars. Next you get to perform the "Leap of Faith", performed the way most acrobatics are; enter High profile mode and hold the legs button while running forward.
One of your men gets injured so you must set the trap off by yourself—don't worry, it's quite simple. Follow the wooden planks connecting the cliffs. Once at the end you will have to scale the side of a building. When you get to the top you will see three diagonal wooden planks—cut one down.
You will now enter your first intermission.
Intermission
You now take control of Desmond at the science facility. Warren and Lucy will excuse themselves from the room to converse. If you listen close you can hear arguing, proceed to the open door and interact in the room, you will eavesdrop on them. Once that is done return back to the main room only for them to tell you to get some rest. Talk to Lucy before you return to the room—talking to her during every intermission unlocks an achievement. Go back into your room and interact with the bed. The game will pick up the next morning with Desmond waking up and finding Vidic standing over him. You will have a conversation with him and you are then free to enter the Animus once again.
Memory Block Two (September 3rd, 2012)
Masyaf
When you return to your ancestor's memory you will watch a cut scene of Altaïr's trial and apparent death for his crime of breaking the assassin's creed. The Animus will fast-forward to a more recent memory, yet again, and you will wake up a while later and be informed that you have been stripped weapons and been demoted to uninitiated, the lowest rank of the organization, in layman's terms this means that all those abilities and counter kills you were just getting used to are gone; yep life's so unfair. Don't worry though, you'll regain all these abilities throughout the course of the game. Al Mualim will tell why you were not killed and then reveal to you the secret of the attack: there was a traitor in the village.
In the first step to redeem yourself Al Mualim will dispatch you to find this traitor and bring him in for judgement. Head downstairs and as you go outside one of your assassin friends will tell how to find the traitor and where to start. He tells you to head for the marketplace so head towards the marker on your map and find the two men your looking for using your "eagle vision". Once you've found them go and sit on the nearby bench and follow the instruction on-screen to eavesdrop on their conversation. After listening to them talk follow the new marker on your map and find the basket weaver. Lock onto him to listen to the conversation between him and the customer and go into low profile mode as he begins to walk away. Walk up behind him and pickpocket him. If you are caught just run into the Haystack around the corner, wait until you've vanished and try again.
Now you've got a name follow yet another marker to where the man is preaching to the villagers, who much to your satisfaction don't seem to be taking much notice. Wait until he's done shouting and using low profile, follow him. Eventually he will walk down a dark alleyway and at this point you can pull out your fists and rough him up a bit. He's no fighter and after putting up a weak resistance he will surrender. After some short interrogation the Animus will fast forward your ancestor's memory again and you will be holding down the traitor while he is judged by Al Mualim. After the rather gory "judgement" you will receive a sword and get back your signature weapon: the Hidden Blade.
At this point, and at the start of any memory block, you will begin in the headquarters of the Assassins. You will have the opportunity to train and to learn any new combat skills you have earned before you leave for the Kingdom. If you have multiple targets, you can choose which city you go to first. The order in which you kill your targets does not matter.
In each city, information is gathered in pretty much the same way. Three of the methods were just shown to you in Masyaf, the fourth is new. You can learn things about your target in the following ways:
The first thing you should always do in each city is visit the Assassin's Bureau. Here you will meet your contact within each city, who can provide you information about where in the city to look for information. After leaving the bureau, the next thing you need to do is climb all of the View Points and use your Eagle Vision. This will bring up locations on your map where information can be found about your target. It also reveals the locations of any Citizens that are in danger and need saving. Once you've climbed every view point, it's time to hit the streets and start doing some detective work.
You are given your first chance to explore these skills abroad in the city of Damascus.
Damascus
Objective: Assassinate Tamir the Merchant
Pickpocketing: So many weapons! Enough for near a thousand men. And it's the smith's at the Souk Al-Silaah who will prepare them. When this job is done, you must learn what you can of the one who financed this endeavor.
Informant: Tamir has planned a meeting with the merchants in his souk. Whatever he has planned for them must be important.
Interrogation: Tamir has little faith in the men who work for him. He oversees their work for himself. You will turn this to your advantage. He'll be too preoccupied with his work to notice your approach.
Eavesdropping: The beams above the souk's central courtyard may prove a useful point of entry... If you can find a way to access them.
Informant: Once you've alerted the guards to your presence, it might be nice to have a man or two by your side. They'd provide a welcome distraction, giving you time to escape. You should seek out such men, befriend them and turn them to your cause.
Pickpocketing: It seems the souk's northeastern rooftops provide easy access to the central courtyard.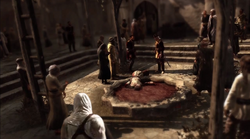 Tamir is a relatively simple assassination. First you must make sure you have freed all of the citizens on the right side of the map, if you climb view points then the citizens show up on the map nearby. After you have received permission to assassinate him from the Assassins Bureau, you can climb into the Souk (marked on the map), watch a cut scene, (don't forget to press a button every time a glitch comes up), and then blend (Foot button) and follow him, shortly he will stop to rant at a Merchant.
At this point sneak up behind him (still blending) and when you are right behind him (making sure your wrist blade is selected), stop blending in and assassinate (Attack Button) in one swift movement. If you press a key during a glitch on the cut-scene, the scene will change not to another perspective, but to a "alive and well" rendition of the dying character speech. After the video flee through the south east exit and take a right. Now there should be a vigilante group right there, so just run straight past and then climb a building and jump into one of those roof gardens. After returning to the Bureau leader and speaking with him, you will be pulled back from the Animus and into intermission at Abstergo.
Intermission
You once take control of Desmond in the Abstergo facility. Warren is displeased with the fact that Lucy insists on letting Desmond rest, and will leave the room shortly after, leaving you free to chat a bit with Lucy. She will explain a little about the Animus, and you can also check her emails, provided you have her access pen. After going through the possible discussions, head to your room and use the bed. Once again, the game will jump to the following morning, with Vidic coming to wake you up. You can talk with him a little about the Abstergo's motives. Once you're done, use the Animus to start the next Memory Block.
Memory Block Three (September 4th, 2012)
There are two assassination targets in memory block three: the Hospitalier Garnier De Naplouse in the city of Acre and Talal the Slave Trader in Jerusalem. This is the first time in the game that you are allowed to visit these cities, and the first time you will be able to climb all of the view points in the Kingdom connecting the cities.
Here's a quick breakdown of what you will find in both cities in memory block three:
Jerusalem
Objective: Slay Talal the Slave Trader
Informant: Talal appears to be a leader of slavers, and occupies an area in the north part of the city, near the Barbican. He seems wiser than those you have faced before. He keeps to the shadows and has his men pay the guards to turn a blind eye to his deeds.
Interrogation: Talal holds his slaves within a warehouse, and later sends them to Acre.
Pickpocket: Talal inspects his stock of slaves daily. You gain a map that clearly shows the positions of his personal guards.
Pickpocket: Talal is rumored to flee from a fight at the first sign of trouble. You gain a map that shows details on possible locations in which he'll take refuge.
Informant: Talal has many loyal followers, all of whom will readily give up their lives for him. If they sense their master is in danger, they're sure to intervene, giving Talal time to escape.
Eavesdropping: Talal is said to favor the bow. In a fight, he'll seek to put distance between him and his enemy, trying to kill from afar.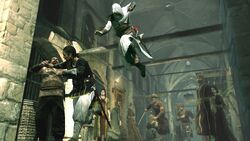 When you go to kill Talal, you must enter his warehouse. Inside, a cut scene will begin in which you see the conditions his slaves are in. After the cut scene his loyal followers attack you in a large group. Try to dispatch them as quickly as possible and get up the ladder to the second floor where you will have to chase Talal outside. A rooftop chase will commence during which he will continue to try to get away from you, so he can shoot his bow at you. Hopefully, if you remembered to save every citizen in trouble in Jerusalem before you went into the warehouse, then while he is trying to run from you Talal will run into a group of vigilantes who will slow him down so that you can catch up to him and kill him. If you did not save citizens, then you may be stuck chasing him for a little while longer before you finally get him.
After killing Talal, another cut scene runs in which Talal speaks of a brotherhood and their designs upon the holy land. However, he denies that he was selling slaves and insists that he was actually trying to help save them. Altaïr becomes confused by this information and decides to return to Al Mualim to report on this matter.
Before you can act on your worries, you must deal with the city wide alert that goes up when Talal is killed. Before you can continue on any further, you must make it safely back to the assassin's bureau. After making it back to the bureau while anonymous, the game will forward to you to a cut scene with Al Mualim.
Acre
Target: Garnier De Naplouse (The "Doctor").
Informant: Garnier hides behind the walls of the Hospitalier fortress. It is doubtful that the patients within afford Garnier much protection. Getting into the fortress, however, is another matter entirely.
Interrogation: Garnier removes himself from the world around him while tend his patients one by one.
Pickpocket: You obtain a letter from Garnier that is quite strange. He references an arms dealer in Damascus – Most Likely Tamir, and a second man in Jerusalem. What secret unites these men? Men who should hate one another.
Pickpocket: The Hospitaliers are replacing all the candelabras within the fortress. These could be used to navigate the rafters. Additionally, the workers seem to have pointed out a few of Garnier's more personal projects affected by the repairs.
Eavesdropping: Some of Garnier's guards have abandoned their posts. The archers patrolling the roof are at a disadvantage.
Informant: Garnier lets his patients roam the halls of his fortress freely. No-one, save Scholars, may enter his personal workspace. Apart from the archers defending the rooftops, slipping in should be easy.
How you choose to go about getting in to kill Garnier is up to you. When you get close to his fortress, you will see a cut scene where a patient is attempting to escape. Garnier's guards capture him before you, and upon Garnier's orders, they break both of the man's legs and take him back inside.
Look at your mini map and blend in with some scholars nearby, as they will get you past the guards and close to your target. Stick with the group until a path to Garnier is clear. Look for an open line to him free of the annoying patients who will push you and break your cover if you get close. From now, you can either climb some stairs to the above catwalks and laps and follow Garnier carefully waiting for the moment to drop death on him, or just run up to him and hit him. After killing Garnier, you will see another cut scene, where Garnier defends his actions and claims that all he ever did was help those he worked on. He was attempting to cure them from their madness using herbs and extracts. Some of his patients, he claims, were even grateful for the work he had done. Once again, Altaïr becomes confused by this information and decides to return to Al Mualim to report on this matter.
But yet again is the matter of the city wide alert that goes up when Garnier is killed. Before you can continue on any further, you must make it safely back to the Bureau. After speaking with its leader, the memory block ends and you are once again brought out of the Animus.
Intermission
The Animus is overheating, and Lucy needs some time to patch it up. You can talk with Lucy, and she will give you some insight into her and Vidic's past, and how she ended up working for Abstergo. After that, head to your room and check the wardrobe to find an access code to your room's keypad. You can now come and go out as you please between the sessions. Head over to the Animus and pick up Lucy's access pen. With it, you can use the machine's console to read through her emails. Once you are done, head back to your room and use the bed. The game will move on to the following morning. Before entering the Animus for the sequence you have a long conversation with Vidic, during which you can pickpocket his access pen while he's staring out the window, which gives you access to his computer and emails.
Memory Block Four (September 5th, 2012)
This is the largest memory block in the game, with three separate assassinations to complete, one in each city. Each target will be found in newly accessible sections of the cities, providing new areas to explore. Again, the order in which you take out the targets is up to you. There is no specific order in which they need to die. In this memory block, expect the cities you go into to have a higher level of guard activity, and for the guards to be more likely to notice you and attack. As I went through it, I found myself fighting off larger numbers of guards to do just about about anything, like saving citizens. The frequency of large groups of guards wandering around on patrol seems to have gotten higher, as well as the number of rooftop archers. Towards later parts of the games, expect to be fighting about 30 guards just because you bumped into one of them.
As per usual, start each city by going to the Assassin's Bureau and speak to your contact there. They will give you information on where to start searching for information. After that, you should climb to the tops of all of the view points in the city and fill in the new areas of the city on your map. Then you can go down to the street level and start your investigation.
Here is a breakdown of the information you will find in each city as you go through them.
Damascus
Target: Abul Nuqoud (The Merchant King)
Interrogation: The best time to strike is when the Merchant King addresses his guests at a party he will be throwing soon. The moment may be brief, but it will be all you will need.
Eavesdropping: The Merchant King has received a vast quantity of wine. He is preparing for another feast. He seems unshaken with his preparations, even though wine is prohibited by his religion. If he can ignore the laws of his Prophet so easily, one can only wonder what other impious acts he'll commit.
Pickpocket: The people of Damascus despise the Merchant King for spending their money on extravagant parties held inside his palace. Attending one of these celebrations should bring you close enough to strike.
Informant: A map of where the Merchant King has stationed his guards is given to you. This can definitely prove useful.
Eavesdropping: There is a fountain in the middle of the Merchant King's Palace which you can climb should the need ever arise.
When you go to kill the Merchant King, you must enter his palace's courtyard, where there is a party going on. A cut scene will start where the Merchant King appears on his balcony about the party. He begins a long speech during which wine begins to pour from the fountain. Many of the guests start drinking the wine. His speech goes on a bit and he talks about a new world that he is trying to bring about. A world of order, a world in which the people at the party will not live to see, due to their corrupt ways. The wine has been poisoned and party goers begin dying around you. The Merchant King Orders his archers to take position on the decking above the courtyard and to begin killing anyone who tries to escape. You need to get up to the balcony the Merchant King is on, kill his bodyguards and then take him out.
You can climb the fountain if you wish to and head straight for him, or you can climb up to the decking level where the archers are and dispatch them. Do not try to hit him with a throwing knife from the ground, as it does not work. If you look around to the left of the balcony the merchant king is on, you can find a way to climb up and can come at the Merchant King's balcony from above. You can drop down from here and go for him directly, before he even moves. Be sure to watch out for the archers as you make your escape. Once the Merchant King is dead, another cut scene begins where your victim tells you that he isn't all that different from you. He is trying to achieve an ultimate good, and in doing so must commit smaller evils to achieve this goal, such as killing the party goers who are wicked people.
Once the cut scene ends, you must sneak back across the city and try to avoid the guards as a city wide alert has once again been given. If you are not being pursued as you near the Bureau, you will be allowed to enter and talk to the agent there. After that, Altaïr decides he must speak with Al Mualim about what he has heard.
Acre
Target: William of Montferrat Once in Acre, make sure to climb view points in both the poor district and the rich district to reveal your investigations. Your informant at the Assassin's Bureau does not point out any investigations to you when you start the mission.
Informant: William retreats to the back of his citadel whenever challenged by King Richard's Authority. The precarious relationship between the two men seems to have spread to their own hosts, causing no small amount of tension. Expect William's Citadel to be densely populated with men loyal to him alone.
Informant: William's men fear he is destined for failure, though they dare not turn to the King for help. There is mention of a third man, one said to reside in the harbor, though he inspires little confidence as well. Uncertainty rules the day. It makes men paranoid, and your work more difficult.
Interrogation: King Richard is visiting William today, and they're almost certain to quarrel. Once they're finished, William will likely return to his citadel to brood. He'll spend the rest of the day scolding his men, distracting him from everything else.
Informant: At the first sign of trouble, the citadel's gates will close. Should this happen, the only way for you to escape will be to climb the fortress walls.
Informant: You gain a map that details the position of William's archers. Removing them should clear a path for you along the rooftops.
Pickpocket: Repairs to the citadel are being handled poorly. According to a map you gain, a structure has been left standing and seemingly forgotten. You can turn this mistake into your advantage.
When you go to kill William of Montferrat, as you reach the front of the Citadel, a cut scene begins. King Richard comes out the front gates on horseback, followed by a number of guards. William is on foot next to him, and they are arguing. They disagree on how the city should be run as well as other topics, Richard accuses him of desiring his crown. After Richard leaves with his guards, William and his guards fall back into the citadel.
If you are standing in the front gates to the citadel and are facing inwards, then William has gone to the far back, right corner. He is scolding his men and is lecturing them on his side of the argument with Richard. How you get in to kill him is up to you, but be warned, he is heavily guarded, and whether you decide to go in for a full frontal assault or a sneak attack from above in the rooftops, the moment you are exposed you will have a small army of guards after you. Try to stay in one area and use counterattacks, because if you back up into different parts of the citadel, there will be more guards waiting.
Another method is to use stealth and try for a leaping assassination. To achieve this feat, sneak along the roof, and instead of climbing down the first ladder, continue along dead ahead. Kill the guard in your way and wrap around to the left, still on the same roof top. Ahead of you there will be a large beam, so jump on it. (Altaïr should go into his crouching movement just like when he walks along other small platforms). William will be talking to his guards assembled around him in a semi circle. Equip your Hidden Blade, leap off the ledge, and press the X button. If you are lucky you should land on top of him and kill him in one shot. This move takes practice and determination, but is well worth it. If you don't get it on your first try but land close enough to him, you will probably be close enough to kill him with your Hidden Blade anyway.
Upon killing William, another cut scene begins where he tells you that yes, he did desire to kill Richard, but not so that he could gain power like Richard assumes. He does not even wish to place his son Conrad into power. He says his desire was to kill Richard and let the people of the city inherit the land. He wished to free the citizens from the whims of petty tyrants and kings. He talked of a "New World" where people are free to make their own choices, and how everything he had done had been to prepare the people of the city for this new world.
After the cut scene ends, you will find that the gates to the citadel close immediately (where you walked in), and you need to head for higher ground to get out. Climb to the top of the outer castle walls. You shouldn't have to cross any streets with more guards on them if you used the assassination method mentioned above. From there you can head towards the front of the citadel, where you can climb over the front and drop back down into the city. From there you need to lose your pursuers and get back to the assassin's bureau. And again, confused by that he has heard from William, Altaïr returns back to speak to Al Mualim to get his opinion on things.
Jerusalem
Target: Majd Addin
Interrogation: Majd Addin seems to have goals of his own, separate from those of his leader, Salah Al'Din. He's executing innocent people, labelling them enemies of the city. There seems to be no method to his madness, and so now fear grips Jerusalem. No one knows when he or she might be dragged before his blade. Is he simply drunk with power, or is there some greater purpose you have yet to find?
Informant: The scholars are likely to cause a disturbance at the entrance to the execution plaza. If you time your entry properly, they could provide a nice distraction for the guards.
Pickpocket: Majd Addin is rumored to have reached his position through nefarious means. These rumors are likely true, as those who preceded him in the position all met with mysterious and untimely ends. The man from whom you learn this carries a map detailing today's execution. It will occur near the western edge of Solomon's temple.
Pickpocket: You gain a map detailing the location of the guards attending today's execution. This will make things much easier.
Informant: Majd Addin enjoys lecturing his prisoners before executing them. While doing so, he turns his back to the crowd. It is the perfect moment to strike.
Eavesdropping: It seems there's to be an execution today and Majd Addin will be in attendance. In fact, he'll be performing it himself. You should endeavor to learn where this morbid event is to take place.
You learn this extra bit of information from your contact at the Assassin's Bureau. One of the men Majd Addin intends to execute is an Assassin. You must see to it that no harm comes to this Brother of yours.
As you go to kill Majd Addin, you will come to the site of the execution for the day. As you approach, a cut scene will begin where you see Addin walk out onto the stage that has been erected. He begins speaking about the evils that were committed by those about to be killed and he says that they are examples that everyone should pay attention to, so that they do not think of doing similar things.
After the cut scene ends, you are free to kill Addin. You cannot let him kill your fellow Assassin, but all others are free to die. Blend in with some scholars to your right and follow them up to the stage. They will stand still for about a minute, then go back to the starting position. Try to kill the target within this window so no one innocent dies. If you choose not to, Addin will keep getting closer to you with every person he kills, making the assassination easier. As usual, break out of blend and jump to the stage with the Hidden Blade ready and hitting the Attack button. Once you have killed Addin, another cut scene begins and you find out that Majd Addin was a mad man. He killed people at random because he simply enjoyed doing so. He got a rush from the feeling of power that comes with choosing the fate of another human being. And although he appears to have betrayed them, Majd Addin claims to also have been a member of the same brotherhood as the others you have killed.
After the cut-scene ends, another city wide alert goes out and you must lose your pursuers before you can make it back safely to the Assassin's Bureau. From there Altaïr decides to go back to see Al Mualim yet again so that he can get more details about this Brotherhood everyone keeps talking about.
During this memory block, you find out from Al Mualim that the brotherhood that is spoken of is the Knights Templar. The people you have been sent to kill are all Templars. They are plotting together to gain control of the Holy Land, and you are being sent to stop them.
Intermission
After you have completed all three assassinations, you are taken back to the present, where Desmond is being taken out of the Animus. Dr. Vidic receives a call from someone, and he does not like the call at all. He storms out of the room. Lucy tells you that they have learned that Assassins are coming for you. They have mounted a sort of rescue party and are trying to find a way to get to you. Lucy then gets a call from Dr. Vidic demanding that she join him right away. She will not leave until you go into your room. Once you have gone into your room and the door closes behind you, you can then enter the access code to the door and re-enter the main lab. From there, you can access the computers if you wish to see if any new emails have shown up for Dr. Vidic or Lucy. This memory block officially ends when you go back into your room and go to sleep.
Memory Block Five (September 6th, 2012)
During this block, as you talk to Al Mualim, the item the Templars are after is revealed to you. It is a small metal object, about the size of an apple. Al Mualim describes it as having the ability to grant the holder of it to control the minds of those around him. He said it was what cast Adam and Eve out of the Garden of Eden, and what allowed a lowly carpenter to turn water into wine. The Templars want it so that they can bring peace and order to the holy land by controlling the minds of everyone in it.
This memory block has two targets you are ordered to eliminate by Al Mualim, in two different cities. Again, the order in which you take out the targets is up to you. There is no specific order in which they need to die. Yet again, in this memory block, expect the cities you go into to have a higher level of guard activity. Not only are there more guards around, but most of the guards have gotten noticeably harder to fight. They will dodge or counter your attacks with more frequency, and will even block your attempts to throw them on a fairly regular basis too. Fights with large groups of men are more common than ever at this point in the game.
As per usual, start each city by going to the Assassin's Bureau and speak to your contact there. They will give you information on where to start searching for information. After that you should climb to the tops of all of the view points in the city and fill in the new areas of the city on your map. Then you can go down to the street level and start your investigation.
Here is a breakdown of the information you will find in each city as you go through them.
Damascus
Target: Jubair al Hakim
Pickpocket: Jubair seems obsessed with destroying every written work in the city. And every day he seems to gather more and more people to his cause. They join him within the Madrasah Al-Kallasah. This is where he can be found, surrounded by his most loyal men.
Eavesdropping: Jubair holds daily meetings within the Madrasah, to speak with his students. The students then take to the streets, carrying the message of their master. One of these meetings is about to begin.
Interrogation: Jubair's scholars are fanatics. They walk the streets, calling out to the citizens, demanding their books and parchments so that they might be burned. They believe that destroying all knowledge of the past will somehow allow for a better future.
Informant: You are given a map where scholars are planning to burn books and other sources of knowledge. Should Jubair escape you, he will probably travel to one of these locations for aid.
Informant: Jubair is known to wear rich, golden robes and carries with him a large pouch. From the other scholars you've seen in Damascus, not many fit this description, making Jubair quite uniquely dressed.
Pickpocket: Jubair's students have uncovered where Jubair's wife hid some books which are meant to be destroyed. The students suspect their master would want to personally burn these documents. The location of this particular burning is within a small park.
As you go to kill Jubair, upon entering the building he is in you come onto the second floor balcony. Piles of books are burning below you. A cut scene begins where one of Jubair's scholars is arguing with him about the burning of the books. Jubair eventually tires of the argument and shoves the scholar onto one of the burning piles of books to die.
After the cut scene, Jubair and a group of his followers split up to go to separate book burnings. Using the information you had gotten earlier, you will have to go to the different sites to find out at which one Jubair is personally. Don't feel bad if you can't get a stealth assassination on this one. It's very difficult to do so and takes some time, but is possible. (He runs away if he sees you). Treat every location you go to as if the target was there for sure. Stock up on knives and run along the rooftops, making sure to use eagle vision when you reach the map marker. Remember: yellow means target. Once you kill him, another cut scene begins in which Jubair defends his actions by claiming that he was trying to protect the people from repeating the mistakes of their ancestors.
After that cut scene ends, another city wide alert goes out and you must lose your pursuers before you can make it back safely to the Assassin's Bureau. From there Altaïr decides to go back to see Al Mualim yet again so that he can get more information about his quest.
Acre
Target: Sibrand
Eavesdropping: Sibrand is paranoid. His fear of the assassins has him cowering deep within the docks. Reaching him may be simple, finding him may not.
Pickpocket: Sibrand will soon retreat to his private vessel, believing himself safe surrounded by water. It will be difficult to approach his ship unseen.
Interrogation: Sibrand plans to install a naval blockade, preventing King Richard, his own King, from receiving reinforcements in the war against the Saracens.
Informant: You are given a map that details the paths taken by Sibrand's guards with the docks district. You should keep it close in case your travels bring me there.
Informant: You are given a map which shows the locations of known drunken sailors that are located amongst the boats in the docks. It is wise to avoid these men as they will push you into water if you get close to them.
Pickpocket: It appears the northern docks are void of Sibrand's knights. You should have a little less trouble making your way through there.
When you go to the docks to find Sibrand, a cut scene begins where you see just how far Sibrand's paranoia has gone. He accuses an innocent elderly scholar of being an assassin who is plotting to kill him. He murders the old man in front of the gathered crowd and then returns to his boat. The easiest way to get to Sibrand is to approach his vessel from the side. Run along the docks and watch out for the drunk sailors along the way. They will push you into the ocean if you are not careful. It is recommended that you punch them to stay safe. If you attack from the side of the ship, you can cling on to side of it and drop down to a lower ledge, using a ledge grab to stay dry. shimmy along to the front of the ship, and wait till Sibrand starts shooting arrows. This is the best time to strike. Once he is dead, sprint to left side of the ship and follow the path out. If you do it right, it is possible to avoid killing a single guard. The map you get from the last pickpocket job shows a map with a path that is the safest way to Sibrand's ship.
As you approach the ship, be sure to kill the guard on the raised platform behind the ship. The quickest way to deal with Sibrand will be to climb onto the outside of the boat near the rear of the ship. Wait for Sibrand to walk to the back of the boat, then hop over the railing and kill him before the guards see you.
When you have killed Sibrand, another cut scene starts up where he tells you that his mission was indeed to blockade the harbor and prevent reinforcements from reaching King Richard. He was following orders towards the Templars ultimate goal of freeing the people of the holy land from the tyranny of faith.
Once Sibrand is dead, another city wide alert goes out and you must lose your pursuers before you can make it back safely to the Assassin's Bureau. Once both assassinations are completed, you are once again taken back to the present.
Intermission
Desmond awakes in the Animus overhearing Dr. Vidic talking to someone who is not identified. Vidic is visibly agitated and storms out of the room shortly after you get up. If you talk to Lucy you will get some more information from her about what is going on. She tells you Vidic is a Templar, and that Abstergo Industries is an organization that is run by the Templars. Lucy explains that the object that the Templars are after was destroyed, but they think there may be more than one of them, and that Desmond's ancestor is suspected to have knowledge about where they can be found.
Also, if you have been reading Dr. Vidic's emails, you will have read about a Satellite that Abstergo is planning to launch into orbit soon. It appears that the huge rush in trying to find the object is so that it can be put into this satellite before it launches. If the Templars can accomplish this, then they will be able to control the minds of everyone on the planet.
Memory Block Six (September 7th, 2012)
This memory block only has one target: the man you failed to kill at the beginning of the game, the head of the Knights Templar: Robert de Sablé. He is somewhere in Jerusalem, and you have been sent to kill him.
Here's a breakdown of what you will find in the city:
Jerusalem
Target: Robert de Sablé
Eavesdropping: Robert and his men walk the streets of Jerusalem finely dressed, bearing expensive gifts. They plan to attend a funeral. Were it anyone other than the monster Majd Addin being buried, you might have second thoughts. But as it is, it seems a most fitting time to take the Templar's life.
Pickpocket: Robert's men are working with the Jerusalem guards to protect the cemetery during Majd Addin's funeral. Doubling the guard would have posed a problem, but you gain a map that tells you where the men are stationed.
Interrogation: They say Robert wants peace, and seeks to prove it by attending a Muslim funeral. But you know the truth. He does not seek peace, but control. Dominion over the land and its people. You will deny him this.
Informant: Robert's men are well prepared for battle. To fight them all at once would be unwise. Should you lose control of the situation, it's best you make a brief escape and return later to eliminate them one by one.
Informant: Reaching Robert might prove difficult, given the number of guards around. Were you to join a group of scholars, you could make your way to him much more easily.
Pickpocket: The Jerusalem guard have set up the standing positions for the Christians during the procession to better protect them in case the citizens take offense to their presence. You gain a map that displays exactly where everyone is standing, even Robert. Especially Robert.
Once you have completed your investigation, head back to the Assassin's Bureau and talk to Malik. He will give you clearance to kill Robert de Sable|Robert, but before Altaïr leaves, he apologizes to Malik for the loss of his arm and his brother due to his actions. Malik and Altaïr talk a bit and you leave on good terms with him.
As you approach the funeral, a cut scene starts and you see someone talking about the loss of Majd Addin. Robert is standing close to the speaker. After the first cut scene ends, you can approach the speaker and Robert and a second cut scene starts. Robert whispers to the speaker and he suddenly tells the crowd there is an assassin amongst you. A bunch of guards come out and they all start attacking you. The first thing you should do at this point is flee. There are too many of them, and there are archers firing arrows too. You should head for a group of Vigilantes you have unlocked within the city. They will help to occupy some of the guards while you kill the others. It's not easy, but you can eventually kill all of the guards and get to Robert. Robert is a good fighter and not easy to take out; the best way is to hopefully have one of the Vigilantes around grab hold of him, and while he's held, you can use your Hidden Blade.
Congratulations, you have done it. You have killed the head of the Knights Templar. Robert de Sable is dead… Wait, hold on, not so fast. No, Robert's not dead. In fact, the person you're fighting is not even Robert. This whole thing has all been a trap. Robert knew you'd be coming for him and was prepared. He sent a woman in his place to flush you out. During a cut scene playing at this point, the woman tells you that Robert is about to speak to the leader of the Saracen army and they are going to work together to assault the home of the Assassins. Altaïr spares the woman's life, since she is not your target, and you leave. You need to go back to the bureau and speak to Malik. You explain to him what happens and tell him you are headed to Arsuf to stop Robert. In the meantime, you order Malik to search the city and see if he can find any additional information regarding this new chain of events. Something about this does not seem right to Altaïr, and he is beginning to suspect duplicity.
Leave Jerusalem and ride for Kingdom, the path to Arsuf. You'll need to place your marker on the spot named Arsuf. Continue to this mark until a pause in the action appears. When placed back into the action, you find yourself on a mountain path, and must fight your way through dozens of guards to reach Robert. Don't try to skip any of the fights here; you will find a memory wall if you have not dispatched the guards in the area before you try to move on. Eventually, you'll find Robert de Sable in a group with other soldiers, and King Richard The Lionheart. You'll speak to the king, and he will allow you to prove yourself in combat. After you fight and kill another group of men, Robert de Sable will finally face you himself. Kill him, and he will reveal that your suspicions of duplicity were well founded. After he passes away, you'll speak to King Richard briefly about peace in the region.
Intermission
After your talk with Richard, you will wake up as Desmond in the present. Warren is listening to a gunfight over a speaker system. Apparently, the assassins who have come to rescue you have arrived. Unfortunately, they are not able to succeed, and are all slain in their attempt. You are still trapped. Warren informs you that the Assassins are now extinct, all except for Desmond. He mentions that they have been hunting them for years. Warren heads out to leave and tells you he will see you tomorrow to get to the final memory that they need.
If you talk to Lucy, she will tell you that things are bad, but not horrible. You actually discuss your family (who are all Assassins), something about a retreat in the desert that has been raided, and the fact that things are looking grim indeed. She also places her left hand across her chest, holding her ring finger in her palm, mimicking the missing finger of 12th century Assassins. Eventually she leaves and you can search the computers again for emails, which gives you the access code to the conference room. There is a very long e-mail on the computer in there that discusses other test subjects and other aspects of Abstergo Industries.
If you read either Lucy's or Vidic's deleted mail, you will discover the password to the conference room door. Entering will give access to another laptop - the laptop greets "Project Lead #9" - where you can read about other artifacts that Abstergo is tracking down. There are numerous references to pop culture myths and conspiracy stories such as the Holy Grail, the Tunguska event, the Philadelphia Project and Crystal Skulls.
Side note: When you check Lucy's e-mail, you will notice that she has some spam (regarding how her friends get all the sex). However, if you take all of the capital letters out of the e-mail, it will spell out WE/WILL/BE/THERE/SOON.
This block officially ends when you go to bed. The game will pick up the next morning with Desmond waking up and finding Vidic standing over him. You will have a conversation with him and you are then free to enter the Animus once again.
Memory Block Seven (September 8th 2012)
You will start in Masyaf at the gates. Start walking towards towards the castle. You will see a man standing under the tree; talk with him and he will appear to be under Al Mualim's control. As you keep making your way to the castle, you will notice people wandering around, praising the Grand Master. When you get to the path leading to the castle, there will be brainwashed assassins there; they will attack you. Fight them and after a minute or so, Malik and a few assassins still loyal to you will kill your attackers. Now make your way to the garden behind the castle. After entering the square in the middle of the yard, you will be frozen in a golden light and find that Al Mualim is holding the Piece of Eden from the temple; he reveals himself to be a secret Templar and assigned you to kill the 9 others as he wanted the Apple for himself. There is a cut scene then you have to fight Al Mualim.
Al Mualim
First, you will have to kill the nine Templars you assassinated before. When they are killed, they are shown to be just brainwashed assassins be disguised by the Piece of Eden.
Then Al Mualim creates multiple copies of himself. The real Al Mualim can be identified with Eagle Vision so if you kill him with a combo attack, the others disappear.
Then he finally goes one-on-one with you. You can kill him instantly with a Hidden Blade counterattack. Lock on to him, switch to your Hidden Blade and then just do a counterattack like you normally would but be warned, this requires much more precise timing than a regular counter-attack. It is easier to counter with a longsword to ground him, then use the Hidden Blade while he is on the floor.
After he is dead, you will try to destroy the Piece of Eden, but won't in the end. A map of the world will be projected from the Apple, showing the locations of other Pieces of Eden across the globe. After that, you will be brought out of the Animus.
A Vision
You awake from the Animus to find Vidic talking to three high-ranking members of Abstergo. The men give the order to kill you; however, Lucy intervenes and saves you by saying that Desmond's memories might still prove useful. As Vidic and Lucy leave the room, you gain the Eagle Vision, and some parts of the lab are covered in strange glowing symbols. Proceed to your room and use Eagle Vision to look at the wall behind your bed. After the credits have gone through, you can choose to explore the environment of the lab and use the computers. However, you cannot access all the computers or the conference room unless you have the access code or security pens. You are also free to use the Animus and replay the Memory Blocks.
Video walkthroughs
Masyaf flag Locations
In front of the tower (where you can climb two levels) in the Practice yard.
Inside the first tower at the highest level.
In the left back corner of the library.
In the back courtyard at the fountain pillar. (You will not gain access until Memory Block 3)
At the end of the same courtyard as in four.
Where you do the leap of faith in the first mission, cross the first beam and before going across the second, turn to your left and you should find the flag.
On a beam that's hanging over the river.
Follow the path back from seven in a straight line, you should see it.
When coming out of the fortress, take the ladder near the hay bale down, and turn right; it should be behind the guard.
On top of the building in plain sight.
Once more, on top of the building in plain sight.
Just follow the roofs of the houses and you will eventually see it.
On top of the building between 4 wooden beams.
On top of a building between a clothes rack.
Ground level in a small hidden corner.
At the end of the houses between a stone wall and tree.
On top of a building.
Behind a stone wall, in front of a house and near a tree.
On top of a building in plain sight.
In a corner between a building and wall.
Damascus flag locations