Main games:

Spinoffs:
Media

Development

Events
Apprentice Initiative

Article Tutorials

Top Articles

Community

Follow Us

Article Improvement
Bureaucrats


Administrators

Rafiq


Rafiq (cont.)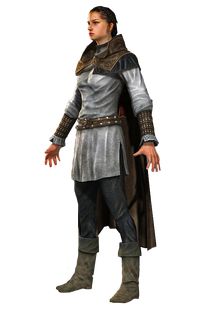 "Everything I worked for in the Holy Land, I no longer want. And everything I gave up to join the Templars... I wonder where all that went, and if I should try to find it again."
―Maria reflecting on her life after cutting her ties with Templars.
Maria Thorpe (c. 1160 - 1227) was an English noblewoman living during the High Middle Ages, who joined the Templar Order prior to the Third Crusade.
Developing a strong relationship with the Order's Grand Master, Robert de Sable, she was eventually given a high rank in the Order. In 1191, after the Assassin Altaïr Ibn-La'Ahad killed eight Templar agents spread throughout the Holy Land, she was assigned by Robert to act as his decoy and thus trick the Assassin into assailing the wrong target. The plan was a success, and Altaïr spared Maria's life. However, Robert was ultimately killed shortly thereafter, and Armand Bouchart took over as Grand Master. (read more...)

See all Featured Articles - Vote for Featured Articles
Do you want a modern day protagonist like Desmond in future games?
Do you want Ubisoft to continue releasing yearly installments?
Affiliates