Home
Talk

187
4,910pages on
this wiki
Main games:

Spinoffs:
Media

Development

Events
Apprentice Initiative

Article Tutorials

Top Articles

Community

Follow Us

Article Improvement
Bureaucrats


Administrators

Rafiq


Rafiq (cont.)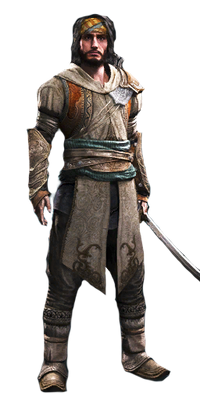 Ezio: "Between the Templars and the Ottomans, you must stay busy."
Yusuf: "Ezio, I barely have time to polish my blade!"
―Yusuf, regarding his leadership of the Ottoman Assassins.
Yusuf Tazim (1467 – 1512) was a Master Assassin, and the leader of the Ottoman Assassins, operating primarily in the Empire's capital of Constantinople.
He was involved in the fight against the Byzantine Templars during the early 1510s, and aided Ezio Auditore da Firenze – a Mentor in the Assassin Order and leader of the Italian Assassins – during his stay in Constantinople.
In the process, Yusuf and Ezio managed to form good relations with the Ottoman Prince Suleiman I, and thwarted the Templars' plans to take over the Ottoman Empire. (read more...)

See all Featured Articles - Vote for Featured Articles
Who is your favorite protagonist?
Where would you most like to see Assassin's Creed go in the future?
Affiliates