Main games:

Spinoffs:
Media

Development

Events
Apprentice Initiative

Article Tutorials

Top Articles

Community

Follow Us

Article Improvement
Bureaucrats


Administrators

Rafiq


Rafiq (cont.)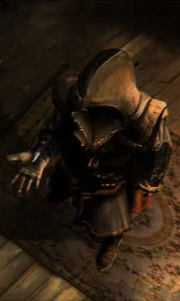 "Someday I will take the time to create, to paint, but not now. For now, I am a soldier on the front lines."
―Francesco Vecellio, 1503.
Francesco Vecellio (c. 1475 - 1560) was an Italian painter, and a member of the Italian Brotherhood of the Assassins.
He was raised and trained by Perotto Calderon, an Assassin secretly posing as a courier for the Borgia. After Perotto's betrayal of the Order, resulting in his death, Francesco was sent to train under Ezio Auditore da Firenze, who had traveled to Rome to fight the Borgia.
Upon his graduation, Francesco was chosen to lead his own core team of Assassins, and would later take on apprentices of his own. (read more...)

See all Featured Articles - Vote for Featured Articles
Do you want a modern day protagonist like Desmond in future games?
Do you want Ubisoft to continue releasing yearly installments?
Affiliates