Main games:

Spinoffs:
Media

Development

Events
Apprentice Initiative

Article Tutorials

Top Articles

Community

Follow Us

Article Improvement
Bureaucrats


Administrators

Rafiq


Rafiq (cont.)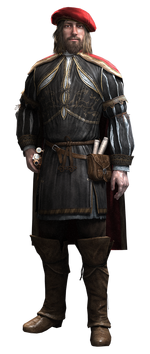 Leonardo di ser Piero da Vinci (1452 - 1519) was an anatomist, sculptor, cartographer, painter, botanist, engineer, architect and mathematician of the Renaissance. He is widely regarded by scholars, engineers, and artists around the world to be one of the greatest minds in history.
Leonardo played an important role in the struggle between the Assassins and Templars, which raged across his homeland throughout his lifetime, all the while remaining a close friend and ally to the Florentine Assassin Ezio Auditore da Firenze. (read more...)

See all Featured Articles - Vote for Featured Articles
Do you want a modern day protagonist like Desmond in future games?
Do you want Ubisoft to continue releasing yearly installments?
Affiliates