Main games:

Spinoffs:
Media

Development

Events
Apprentice Initiative

Article Tutorials

Top Articles

Community

Follow Us

Article Improvement
Bureaucrats


Administrators

Rafiq


Rafiq (cont.)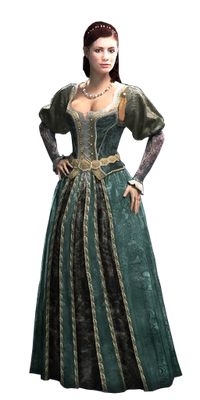 "The more we know about the world, the less we seem to know."
―Sofia Sartor, 1511.
Sofia Sartor (1476 - unknown) was a Venetian-Ottoman bookshop owner, and a literary enthusiast. Though born in the city of Constantinople, Sofia was forced to leave for Venice during 1499, when the Ottoman-Venetian war began.
Sofia eventually returned to her birthplace in 1507 to run a bookstore at the old Polo trading post. During 1511, she met the Assassin Ezio Auditore da Firenze, the man who would eventually become her husband, and the father of her two children.
A polylingual, multicultural, and intelligent woman mature beyond her years, Sofia had a passion for literature, which fueled her decision to run her bookstore, in hopes of sharing the democratizing effect she felt in books with others. (read more...)

See all Featured Articles - Vote for Featured Articles
Do you want a modern day protagonist like Desmond in future games?
Do you want Ubisoft to continue releasing yearly installments?
Affiliates