Main games:

Spinoffs:
Media

Development

Events
Apprentice Initiative

Article Tutorials

Top Articles

Community

Follow Us

Article Improvement
Bureaucrats


Administrators

Rafiq


Rafiq (cont.)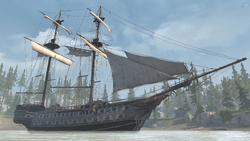 "Who is she? Why the Aquila, boy! The Ghost of the North Seas! ... She's a ship, boy, and make no mistake about it!"
―Robert Faulkner to Connor regarding the Aquila, 1770.
The Aquila was a French naval warship commissioned and constructed during the 18th century. She soon became the flagship of the burgeoning Assassin fleet.
During the American Revolution, the vessel was captained by the Colonial Assassin Ratonhnhaké:ton, with Robert Faulkner as his first mate. Under their command, the Aquila helped to capture Continental Army captain and Templar Nicholas Biddle, who had been raiding locations along the coast. The pair also patrolled several trade routes along the Eastern Seaboard and the Caribbean Sea, engaging in multiple privateer contracts. (read more...)

See all Featured Articles - Vote for Featured Articles
Do you want a modern day protagonist like Desmond in future games?
Do you want Ubisoft to continue releasing yearly installments?
Affiliates