Main games:

Spinoffs:
Media

Development

Events
Apprentice Initiative

Article Tutorials

Top Articles

Community

Follow Us

Article Improvement
Bureaucrats


Administrators

Rafiq


Rafiq (cont.)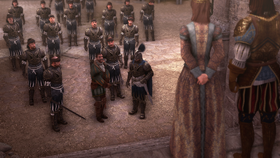 "Cesare persuaded King Louis to lend him an entire army to defeat me. I'm flattered."
―Bartolomeo d'Alviano regarding the French, 1503.
The skirmish in the Campagna District was a military conflict fought between the forces of Bartolomeo d'Alviano and Octavian de Valois in 1503, within the Campagna District of Rome.
Bartolomeo had been ensnared in a losing battle with the French for a few years, and it had grown worse with the addition of Borgia soldiers. However, the Assassin, Ezio Auditore da Firenze, aided Bartolomeo in his fight by assassinating Battista Borgia, causing the Borgia troops to withdraw from the battle.
Following the battle, the Assassins were able to focus their attention to the Borgia, having driven the French soldiers from Rome. This led the Assassins to procure a key to the Castel Sant'Angelo, enabling them with full access of the Castello. (read more...)

See all Featured Articles - Vote for Featured Articles
Do you want a modern day protagonist like Desmond in future games?
Do you want Ubisoft to continue releasing yearly installments?
Affiliates