Main games:

Spinoffs:
Media

Development

Events
Apprentice Initiative

Article Tutorials

Top Articles

Community

Follow Us

Article Improvement
Bureaucrats


Administrators

Rafiq


Rafiq (cont.)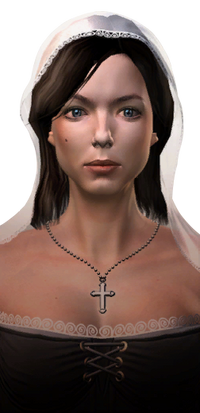 "I find that men are more... open, to religious change when it comes to women like me."
―Sister Teodora.
Teodora Contanto, also known as Sister Teodora, (1450 - unknown) was the leader of the Venetian courtesans and a member of the Assassin Order.
She spent five years of her life in a convent, but found herself disagreeing with the beliefs of the other nuns. After leaving the convent, she founded La Rosa della Virtù, her own brothel, which was staffed by women with a similar belief to her own.
She assisted the Assassin Ezio Auditore da Firenze during his quest to assassinate Marco Barbarigo, the Templar Doge of Venice. With the help of Teodora and her girls, Ezio was able to infiltrate the Doge's Carnevale party, where he assassinated his target.
She was also one of the Assassins that were present during Ezio's fight with Rodrigo Borgia, though they had come to claim an Apple of Eden. Teodora, Paola and Niccolò Machiavelli remained at the sidelines while the others joined the fight, and only revealed themselves after Rodrigo's departure. (read more...)

See all Featured Articles - Vote for Featured Articles
7,779 articles since July, 2007
25,262 images uploaded since July, 2007
52,000+ readers daily
4,281,900+ page views per month
622,000+ visits to the Assassin's Creed Wiki per month
95 user registrations since July, 2007
662,778 edits made since July, 2007
Do you want a modern day protagonist like Desmond in future games?
Do you want Ubisoft to continue releasing yearly installments?
Affiliates