Main games:

Spinoffs:
Media

Development

Events
Apprentice Initiative

Article Tutorials

Top Articles

Community

Follow Us

Article Improvement
Bureaucrats


Administrators

Rafiq


Rafiq (cont.)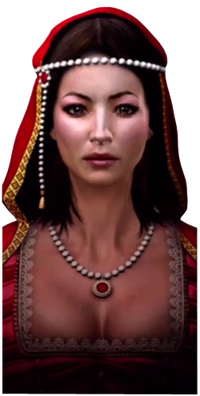 Ezio: "And why are you going to teach me how to kill?"
Paola: "I'm not. I'm going to teach you how to survive."
―Paola to Ezio Auditore, 1476.
Paola (1438 - unknown) was the leader of the Florentine courtesans, owner of La Rosa Colta and a member of the Assassin Order.
Orphaned from an early age, Paola had known many hardships during her life, until she was finally charged with the murder of a city guard. With the help of Giovanni Auditore da Firenze, Paola managed to get out of trouble, after which she founded her brothel.
After Giovanni's death at the hands of the Templars, Paola assisted the young Ezio Auditore da Firenze multiple times, teaching him how to blend and lower his notoriety. She also renewed his contact with Leonardo da Vinci, who was able to repair his Hidden Blade.
Many years later, she was present at the claiming of the Apple of Eden from Rodrigo Borgia in Venice, along with many other Assassins that had helped Ezio during his travels. (read more...)

See all Featured Articles - Vote for Featured Articles



Altaïr Ibn-La'Ahad wielding his Apple of Eden




Ezio Auditore da Firenze kissing Cristina Vespucci

To write a new article, just enter the article title in the box below. Don't forget to categorize them!

Not sure where to start?

Things that need improvement

Adding content

Community

5,865 articles since July, 2007
21,603 images uploaded since July, 2007
52,000+ readers daily
4,281,900+ page views per month
622,000+ visits to the Assassin's Creed Wiki per month
156 user registrations since July, 2007
618,654 edits made since July, 2007
Where would you most like to see Assassin's Creed go in the future?
Who is your favorite protagonist?
Affiliates