Main games:

Spinoffs:
Media

Development

Events
Apprentice Initiative

Article Tutorials

Top Articles

Community

Follow Us

Article Improvement
Bureaucrats


Administrators

Rafiq


Rafiq (cont.)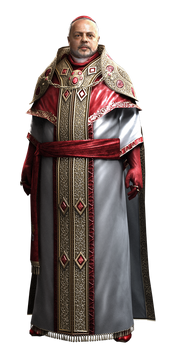 "He is Rodrigo Borgia, one of the most powerful men in all of Europe, and leader of the Templar Order."
―Mario Auditore to his nephew, Ezio.
Rodrigo Borgia (1431 – 1503), born Roderic Llançol, later Roderic de Borja i Borja, was a Spanish Cardinal and the leader of the Templar Order during the Renaissance. He was the father of Juan, Cesare, Lucrezia, and Jofré Borgia, as well as grandfather to Giovanni Borgia.
Rodrigo was Pope from 1492 to 1503, and was known as Alexander VI. He was one of the most controversial Popes of the Renaissance, and his surname became synonymous for the corrupt standards of the Papacy in that era. (read more...)

See all Featured Articles - Vote for Featured Articles
8,046 articles since July, 2007
25,505 images uploaded since July, 2007
52,000+ readers daily
4,281,900+ page views per month
622,000+ visits to the Assassin's Creed Wiki per month
81 user registrations since July, 2007
668,923 edits made since July, 2007
Do you want a modern day protagonist like Desmond in future games?
Do you want Ubisoft to continue releasing yearly installments?
Affiliates