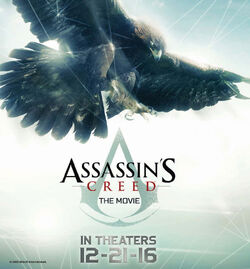 The Assassin's Creed film is an upcoming, feature-length motion picture, based on the award-winning series of the same name, directed by Justin Kurzel and produced by Ubisoft Motion Pictures and Frank Marshall.[1]
The film is produced by and stars Michael Fassbender, who mentioned the film will be a mixture of the game and new story elements.[2]
It will be distributed by 20th Century Fox for a planned 21 December 2016 release date.[3] Fassbender said in April 2015 that filming will begin in September.[4]
Cast and crew
Michael Fassbender will both produce and star in the film. Critics have speculated that Fassbender will be portraying series-lead, Desmond Miles,[5] though this has neither been confirmed nor denied.[6] Fassbender said "I met up with the guys from Ubisoft and they told me the story behind it, and I thought it was very interesting — the idea of reliving memories."[7]
Ubisoft have hired English writer Michael Lesslie to pen the script for the movie, and have brought onboard Conor McCaughan to help Fassbender produce the film.[8] In 2013, screenwriter Scott Frank (Minority Report, The Wolverine) mentioned he was rewriting the script.[9] The following year, Adam Cooper and Bill Collage, who wrote the original draft of Ridley Scott's Exodus: Gods and Kings, were assigned to the next draft of Assassin's Creed.[10]
In April 2014, it was reported Fassbender was looking to reteam with director Justin Kurzel, with whom he collaborated on the upcoming film version of Macbeth.[11] In August, Fassbender confirmed Kurzel was attached to the project, as was his cinematographer Adam Arkapaw.[2]
In February 2015, Fassbender's Macbeth co-star Marion Cotillard joined the cast of Assassin's Creed.[12] In May, Alicia Vikander, whom Fassbender met on the upcoming The Light Between Oceans, was in talks to join the film.[13] In July, Michael K. Williams joined the cast in a co-starring role with Fassbender.[14]
Development
Ubisoft began development of the film in May 2011, where it was confirmed for a 3D release.[15] Later that year, Ubisoft was reaching a deal with Sony Entertainment to distribute the film. The terms and conditions surrounding the agreement were described by Hollywood insiders as "unheard of", with Ubisoft getting the final say on budget, principal cast, script, release date and more.[16]
The level of control being afforded to Ubisoft divided critics of both games and films, with many noting that while Hollywood insiders considered Sony's move to have killed the film before it had even begun, gamers considered the move to be beneficial to the franchise's future, as in recent years, game adaptations had tended to be of poor quality.[16] Senior Vice President of International Marketing, Jean de Rivieres, echoed this sentiment, and claimed that the film will "reflect the brands accurately and consolidate our fan base."[15]
On 22 October 2012, a few months after Fassbender signed to produce and star in the film, it was announced that Ubisoft Motion Pictures had chosen to develop the film in close collaboration with New Regency, because they were "a talent and filmmaker-driven company, with the same independent and creative mindset that we have at Ubisoft Motion Pictures." The development of a screenplay began immediately, and the project was fast tracked, while still allowing Ubisoft to maintain control of key elements of the film's creative direction.[17]
Ubisoft also changed their distributor from Sony Entertainment to 20th Century Fox, though the reason for this has not been made known.[18] In February 2015, it was announced that the film had entered production. [19]
References