Ezio, my friend! How may I be of service?


This article is in desperate need of a revamp. Please improve it in any ways necessary in order to achieve a higher standard and follow our Manual of Style.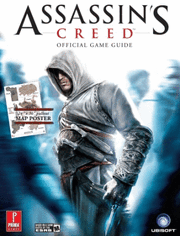 The Assassin's Creed: Official Game Guide is a text written to offer players of Assassin's Creed help and guidance throughout their playing of the game. Published by Prima Guides, the book assists its reader with all game content, including central missions, detailed maps, side missions, and general information about the game and its story. It also comes with a large poster depicting all the maps of the cities seen within the games, with all points of interest marked. Amazon customers buy this book with Assassin's Creed Platinum Edition PS3.
The guide is broken up into six main parts.
Introduction
Edit
This part of the guide serves to introduce some of the historical backstory to the game.
Training and Maneuvers
Edit
This section details how to both use the guide and successfully learn how to navigate in the game itself. It covers everything from the user interface to details of the actions the player can use in the game, which are further broken down depending on the context of the situation.
Characters and Enemies
Edit
This section gives brief biographies of the major characters and enemies encountered in the game.
Tour of the Holy Land
Edit
This comprehensive section breaks down every available map into sections, highlighting important information, such as where information can be found, what to look out for while walking around, and how much resistance (either from traffic or guards) a player can expect to encounter. Screenshots of maps are included, with all points of interest (such as viewpoints) marked.
Walkthrough
Edit
This section goes through every memory of every sequence in the game, detailing proven strategies to help players whenever they get stuck. As the story progresses, a brief summary of what happened previously is usually given to help players quickly orient themselves.
Appendices
Edit
This section acts like an index, offering an overview of how the game's story is broken down, and how the characters are all related.
Ad blocker interference detected!
Wikia is a free-to-use site that makes money from advertising. We have a modified experience for viewers using ad blockers

Wikia is not accessible if you've made further modifications. Remove the custom ad blocker rule(s) and the page will load as expected.