Main games:

Spinoffs:
Media

Development

Events
Apprentice Initiative

Article Tutorials

Top Articles

Community

Follow Us

Article Improvement
Bureaucrats


Administrators

Rafiq


Rafiq (cont.)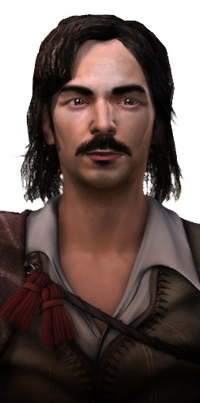 "When I was a child, we were taught that the nobles were just and kind. I believed it, too. Though my father was only a cobbler and my mother a scullery maid, I aspired to be much more. I studied hard, I persevered, but the nobles would never have me."
―Antonio to Ezio.
Antonio de Magianis (1443 - unknown) was a member of the Assassin Order and leader of the Thieves Guild located in the Italian city of Venice during the 15th century.
Raised in poverty from birth, Antonio was unable to attain a wealthy lifestyle, eventually resulting in his founding of the Venetian Thieves Guild. Targeting the rich and wealthy of the city's population, Antonio also improved his position in the Assassin Order, realizing that members of the Templar Order had dug their way into Venice's corrupt nobility.
Eventually meeting with Ezio Auditore da Firenze, an Assassin-in-training on a quest for vengeance, the pair worked together to thwart the Templars' plans to take over Venice. After a failed attempt to infiltrate the Palazzo della Seta by the thieves, Ezio eventually managed to do so with their help, resulting in the successful assassination of Emilio Barbarigo. The thieves then took over the Palazzo for themselves, turning it into their new base of operations. (read more...)

See all Featured Articles - Vote for Featured Articles
6,091 articles since July, 2007
22,290 images uploaded since July, 2007
52,000+ readers daily
4,281,900+ page views per month
622,000+ visits to the Assassin's Creed Wiki per month
124 user registrations since July, 2007
627,908 edits made since July, 2007
Do you want a modern day protagonist like Desmond in future games?
Do you want Ubisoft to continue releasing yearly installments?
Affiliates