Main games:

Spinoffs:
Media

Development

Events
Apprentice Initiative

Article Tutorials

Top Articles

Community

Follow Us

Article Improvement
Bureaucrats


Administrators

Rafiq


Rafiq (cont.)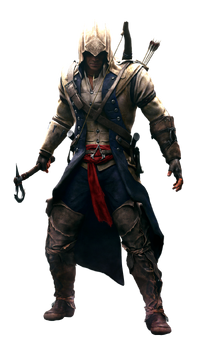 "I realize now that it will take time, that the road ahead is long and shrouded in darkness. It is a road that will not always take me where I wish to go – and I doubt I will live to see it end. But I will travel down it nonetheless."
―Ratonhnhaké:ton, 1783.
Ratonhnhaké:ton (1756 – unknown), often known by the adopted name of Connor, was a Kanien'kehá:ka Assassin during the period of the American Revolutionary War, and is an ancestor of Desmond Miles, through the paternal line.
Ratonhnhaké:ton was born to the Templar Haytham Kenway and Kaniehtí:io, a Kanien'kehá:ka woman from the village of Kanatahséton. In 1760, while he was still a young child, he was assaulted by Charles Lee and other members of the Templar Order seeking the spirit sanctuary his people guarded, and then watched as his village burned down and his mother died.
Growing up concerned by the outside world's impact on his people, Ratonhnhaké:ton joined the Assassin Order to prevent the Templars from returning. Finding the Templars had all but destroyed the Colonial Assassins, Ratonhnhaké:ton convinced Achilles Davenport to train him. Using Connor as an adopted pseudonym, he revitalized the Order by recruiting craftsmen to renovate the Davenport Homestead and the Assassin ship, the Aquila. Robert Faulkner subsequently trained him to captain the ship, while Ratonhnhaké:ton inducted six more Assassins into the Order. (read more...)

See all Featured Articles - Vote for Featured Articles
8,046 articles since July, 2007
25,486 images uploaded since July, 2007
52,000+ readers daily
4,281,900+ page views per month
622,000+ visits to the Assassin's Creed Wiki per month
85 user registrations since July, 2007
668,728 edits made since July, 2007
Do you want a modern day protagonist like Desmond in future games?
Do you want Ubisoft to continue releasing yearly installments?
Affiliates