Home
Talk

204
5,625pages on
this wiki
Main games:

Spinoffs:
Media

Development

Events
Apprentice Initiative

Article Tutorials

Top Articles

Community

Follow Us

Article Improvement
Bureaucrats


Administrators

Rafiq


Rafiq (cont.)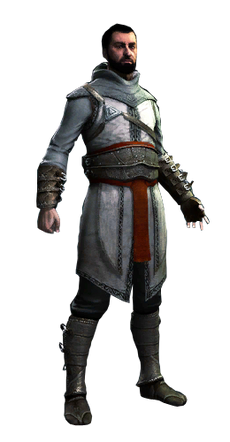 Mukhlis: "He takes our money and gives us nothing in return, where once the citadel was the heart of the community from which came strength, guidance..."
Altaïr: "And protection."
Mukhlis: "That too. All those things left with you, Altaïr, to be replaced by... corruption and paranoia."
—Mukhlis and Altaïr discussing Abbas' leadership.
Abbas Sofian (1166 – 1247) was a Syrian Assassin during the Middle Ages, and the Mentor of the Levantine Assassins from 1227 until his death. His leadership over the Levantine Brotherhood showed a period of corruption and disregard for the Order's Creed, resulting in the decline of their castle in Masyaf and its villagers fearing and secretly loathing the Assassins.
Raised as an Assassin from birth alongside Altaïr Ibn-La'Ahad, the two became best friends during their childhood. However, after Altaïr revealed to Abbas that Abbas' father Ahmad had killed himself, rather than leave the Order as Abbas had believed, Abbas labelled Altaïr a liar, and developed a hatred for him that would span a lifetime. (read more...)

See all Featured Articles - Vote for Featured Articles



Ezio Auditore da Firenze handing a Codex page over to Leonardo da Vinci




Lucy Stillman in the Sanctuary

To write a new article, just enter the article title in the box below. Don't forget to categorize them!

Not sure where to start?

Things that need improvement

Adding content

Community

5,625 articles since July, 2007
20,778 images uploaded since July, 2007
52,000+ readers daily
4,281,900+ page views per month
622,000+ visits to the Assassin's Creed Wiki per month
180 user registrations since July, 2007
601,814 edits made since July, 2007
Who is your favorite protagonist?
Where would you most like to see Assassin's Creed go in the future?
Affiliates