Home
Talk

204
5,612pages on
this wiki
Main games:

Spinoffs:
Media

Development

Events
Apprentice Initiative

Article Tutorials

Top Articles

Community

Follow Us

Article Improvement
Bureaucrats


Administrators

Rafiq


Rafiq (cont.)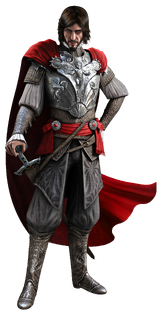 "Father, do you not see? I control all of this. If I want to live, I live. If I want to take, I take. If I want you to die, you die!"
―Cesare Borgia to his father, 1503.
Cesare Borgia (1475 or 1476 - 1507) was the son of Rodrigo Borgia and a nemesis of the Assassin Ezio Auditore. Like his father, he was a member of the Templar Order. Eventually, he became Captain General of the Papal armies, though he secretly plotted against his father to take over Rome, and all of Italy afterwards.
Even before his father's death, he claimed the rank of Grand Master of the Templar Order, usurping the title completely when his father eventually died. Although he appeared to be loyal to the Templars, he only desired control of the powers of the Apple. (read more...)

See all Featured Articles - Vote for Featured Articles



The Villa Auditore's main hall




The Villa Auditore's armor room

To write a new article, just enter the article title in the box below. Don't forget to categorize them!

Not sure where to start?

Things that need improvement

Adding content

Community

5,612 articles since July, 2007
20,750 images uploaded since July, 2007
52,000+ readers daily
4,281,900+ page views per month
622,000+ visits to the Assassin's Creed Wiki per month
185 user registrations since July, 2007
601,503 edits made since July, 2007
Who is your favorite protagonist?
Where would you most like to see Assassin's Creed go in the future?
Affiliates