Home
Talk

199
5,301pages on
this wiki
Main games:

Spinoffs:
Media

Development

Events
Apprentice Initiative

Article Tutorials

Top Articles

Community

Follow Us

Article Improvement
Bureaucrats


Administrators

Rafiq


Rafiq (cont.)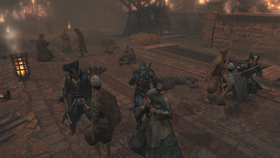 "Push through! Go! Go! Justice or death! Forward!"
―The Turkish civilians endeavoring to push through the arsenal gates, 1511
The riot at the Harbor of Theodosius was an event that occurred during the Ottoman Empire in the year 1511, in which a large group of vexed citizens at Constantinople's Harbor of Theodosius rioted against the Janissaries because of their corrupt behavior.
However, the turmoil was catalyzed by the Assassin Ezio Auditore da Firenze, who arrived at the harbor and incited the citizens by bribing local heralds, who were then used to stimulate the conflict.
After the incident at the harbor, Ezio met with Ottoman Prince Suleiman I, who gave him the orders to assassinate Tarik Barleti, the Janissary Captain. This came after Ezio informed Suleiman of a meeting that he had observed between Tarik and a Templar named Manuel Palaiologos, an heir to the Byzantine throne. (read more...)

See all Featured Articles - Vote for Featured Articles



Altaïr Ibn-La'Ahad wielding an Apple of Eden




Ezio Auditore da Firenze romancing Cristina Vespucci

To write a new article, just enter the article title in the box below. Don't forget to categorize them!

Not sure where to start?

Things that need improvement

Adding content

Community

5,301 articles since July, 2007
19,956 images uploaded since July, 2007
52,000+ readers daily
4,281,900+ page views per month
622,000+ visits to the Assassin's Creed Wiki per month
253 user registrations since July, 2007
589,310 edits made since July, 2007
Who is your favorite protagonist?
Where would you most like to see Assassin's Creed go in the future?
Affiliates