Home
Talk

204
5,625pages on
this wiki
Main games:

Spinoffs:
Media

Development

Events
Apprentice Initiative

Article Tutorials

Top Articles

Community

Follow Us

Article Improvement
Bureaucrats


Administrators

Rafiq


Rafiq (cont.)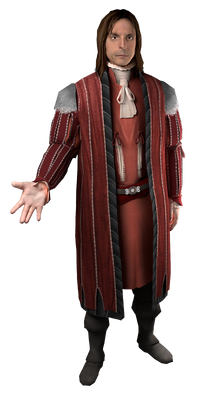 "Family. Justice. Honor. These are the values guiding my blade. This truth is written in blood, and the shadows are where I strike. I am Giovanni Auditore, and like my ancestors before me, I am an Assassin."
―Giovanni Auditore.
Giovanni Auditore da Firenze (1436 – 1476) was a Florentine nobleman, the head of the Auditore family in Florence, and is an ancestor to both Clay Kaczmarek and Desmond Miles, the latter through the paternal line.
Despite being the head of the Auditore International Bank, working alongside the Medici family, Giovanni's true nature as an Assassin was known only to a few individuals. Raised and trained along with his brother Mario from birth to be an Assassin, Giovanni had been aware of the Templar Order for almost all of his life.
Giovanni was also the husband of Maria Auditore, and father to Federico, Ezio, Claudia and Petruccio. He sought to induct his children into the Order, but had only revealed his allegiance to his wife before the time of his death; despite this, he had already begun to train his eldest son in the Assassin ways, albeit secretively. (read more...)

See all Featured Articles - Vote for Featured Articles



Altaïr Ibn-La'Ahad viewing the city of Acre from above




The Armor of Altaïr sitting behind bars in the Sanctuary

To write a new article, just enter the article title in the box below. Don't forget to categorize them!

Not sure where to start?

Things that need improvement

Adding content

Community

5,625 articles since July, 2007
20,778 images uploaded since July, 2007
52,000+ readers daily
4,281,900+ page views per month
622,000+ visits to the Assassin's Creed Wiki per month
180 user registrations since July, 2007
601,817 edits made since July, 2007
Who is your favorite protagonist?
Where would you most like to see Assassin's Creed go in the future?
Affiliates