Home
Talk

204
5,385pages on
this wiki
Main games:

Spinoffs:
Media

Development

Events
Apprentice Initiative

Article Tutorials

Top Articles

Community

Follow Us

Article Improvement
Bureaucrats


Administrators

Rafiq


Rafiq (cont.)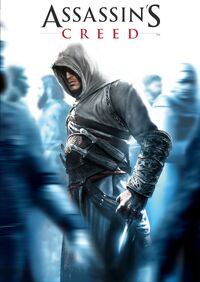 Assassin's Creed is a sandbox style action-adventure game developed by Ubisoft Montreal and published by Ubisoft. The game was released for the Xbox 360 and Playstation 3 in November 2007 and for PC in April 2008.
The game centers around the use of a machine dubbed "the Animus", which allows its user to view the genetic memories of his or her ancestors, specifically a bartender named Desmond Miles. As Desmond relives the memories of one of his ancestors, the Assassin Altaïr Ibn-La'Ahad who lived in the Holy Land during the Third Crusade, details of a battle between two ancient sects, the Knights Templar and the Assassins, emerge as both scour for an artifact known only as a "Piece of Eden".
The game received primarily positive reviews, for both its story and its gameplay, and received several awards at the 2006 E3. In November 2009, Assassin's Creed II was released as a sequel. (read more...)

See all Featured Articles - Vote for Featured Articles



Ezio Auditore da Firenze, just inches away from killing Juan Borgia




Ezio Auditore attempting to finish off Cesare Borgia once and for all

To write a new article, just enter the article title in the box below. Don't forget to categorize them!

Not sure where to start?

Things that need improvement

Adding content

Community

5,385 articles since July, 2007
20,732 images uploaded since July, 2007
52,000+ readers daily
4,281,900+ page views per month
622,000+ visits to the Assassin's Creed Wiki per month
143 user registrations since July, 2007
605,442 edits made since July, 2007

Who is your favorite protagonist?
Where would you most like to see Assassin's Creed go in the future?
Affiliates