Main games:

Spinoffs:
Media

Development

Events
Apprentice Initiative

Article Tutorials

Top Articles

Community

Follow Us

Article Improvement
Bureaucrats


Administrators

Rafiq


Rafiq (cont.)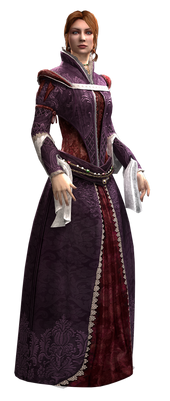 "One should always have the freedom to choose."
―Caterina to Ezio Auditore, 1500
Caterina Sforza (1463 – 1509) was the Countess of Forlì and Imola, and the daughter of Galeazzo Maria Sforza, the Duke of Milan. She was engaged to Pope Sixtus IV's nephew, Girolamo Riario, at only 10 years of age, and consummated the marriage at 14.
As countess of Forlì, she became a strong ally of the Assassin Order, meeting the Assassin Ezio Auditore da Firenze after her husband Girolamo had her trapped on a small island in Romagna. Eight years later, Caterina had her husband killed by the Orsi brothers after finding out that he was working for the Templars and for being a lousy husband.
Offering to keep the ancient artifact, the "Apple of Eden", safe in Forlì, Caterina and the Assassins Ezio and Niccolò Machiavelli found the city taken by the Orsi brothers, who were hired by the Templars. Re-taking the city, Ezio saved Caterina's children from the Orsi and killed the two brothers, though the Apple was eventually taken from him. (read more...)

See all Featured Articles - Vote for Featured Articles
7,530 articles since July, 2007
24,860 images uploaded since July, 2007
52,000+ readers daily
4,281,900+ page views per month
622,000+ visits to the Assassin's Creed Wiki per month
125 user registrations since July, 2007
654,560 edits made since July, 2007
Do you want a modern day protagonist like Desmond in future games?
Do you want Ubisoft to continue releasing yearly installments?
Affiliates