Main games:

Spinoffs:
Media

Development

Events
Apprentice Initiative

Article Tutorials

Top Articles

Community

Follow Us

Article Improvement
Bureaucrats


Administrators

Rafiq


Rafiq (cont.)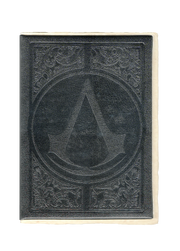 "Laa shay'a waqi'un moutlaq bale kouloun moumkine."
―The Creed of the Levantine Assassins.
Altaïr Ibn-La'Ahad's Codex was a personal journal written by the Master Assassin Altaïr Ibn-La'Ahad, following the death of his Mentor, Rashid ad-Din Sinan. It documents his explorations into the Apple of Eden he possessed, and it offers an autobiographical view of his life and various assassination-related articles. (read more...)

See all Featured Articles - Vote for Featured Articles
7,527 articles since July, 2007
24,847 images uploaded since July, 2007
52,000+ readers daily
4,281,900+ page views per month
622,000+ visits to the Assassin's Creed Wiki per month
122 user registrations since July, 2007
654,443 edits made since July, 2007
Do you want a modern day protagonist like Desmond in future games?
Do you want Ubisoft to continue releasing yearly installments?
Affiliates