Main games:

Spinoffs:
Media

Development

Events
Apprentice Initiative

Article Tutorials

Top Articles

Community

Follow Us

Article Improvement
Bureaucrats


Administrators

Rafiq


Rafiq (cont.)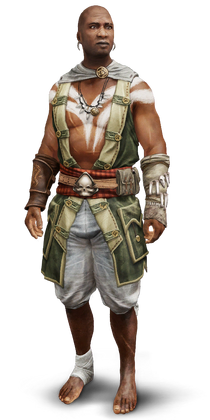 "It was your responsibility to know, as much as mine, Agaté. I was a child when you brought me into the Brotherhood and made me an Assassin. You pretended to protect me, to root out the enemy!"
―Aveline to Agaté regarding his position as Mentor, 1777.
Agaté (c. 1722 – 1777) was the Mentor of the Assassin Brotherhood in Louisiana, operating from his hideout in the Louisiana Bayou.
Enslaved from a young age, Agaté came into contact with revolutionary disruptor François Mackandal, who taught him the ways of the Assassins. Following the death of his Mentor in 1758, Agaté traveled to Louisiana, a marked man, and hid in the bayou.
Agaté subsequently established the local Assassin guild, recruiting Aveline de Grandpré and Gérald Blanc, whom he trained to be his agents in New Orleans. After the Templars' presence in the bayou notably increased in 1766, Agaté went further into hiding, constructing a hidout deep within the swamp. (read more...)

See all Featured Articles - Vote for Featured Articles
6,916 articles since July, 2007
23,733 images uploaded since July, 2007
52,000+ readers daily
4,281,900+ page views per month
622,000+ visits to the Assassin's Creed Wiki per month
169 user registrations since July, 2007
643,195 edits made since July, 2007
Do you want a modern day protagonist like Desmond in future games?
Do you want Ubisoft to continue releasing yearly installments?
Affiliates