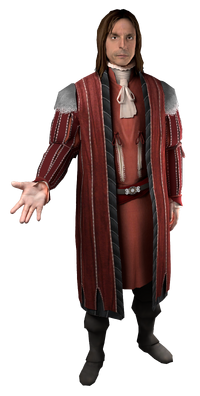 "Family. Justice. Honor. These are the values guiding my blade. This truth is written in blood, and the shadows are where I strike. I am Giovanni Auditore, and like my ancestors before me, I am an Assassin."
―Giovanni Auditore.
Giovanni Auditore da Firenze (1436 – 1476) was a Florentine nobleman, the head of the Auditore family in Florence, and is an ancestor to both Clay Kaczmarek and Desmond Miles, the latter through the paternal line.
Despite being the head of the Auditore International Bank, working alongside the Medici family, Giovanni's true nature as an Assassin was known only to a few individuals. Raised and trained along with his brother Mario from birth to be an Assassin, Giovanni had been aware of the Templar Order for almost all of his life.
Giovanni was also the husband of Maria Auditore, and father to Federico, Ezio, Claudia and Petruccio. He sought to induct his children into the Order, but had only revealed his allegiance to his wife before the time of his death; despite this, he had already begun to train his eldest son in the Assassin ways, albeit secretively. (read more...)

See all Featured Articles - Vote for Featured Articles
8,704 articles since July, 2007
26,868 images uploaded since July, 2007
52,000+ readers daily
4,281,900+ page views per month
622,000+ visits to the Assassin's Creed Wiki per month
109 user registrations since July, 2007
703,496 edits made since July, 2007
Do you want a modern day protagonist like Desmond in future games?
Do you want Ubisoft to continue releasing yearly installments?
Affiliates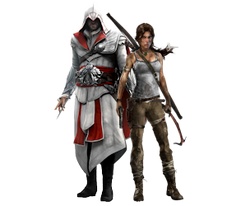 Action-Adventure Games
Go to these sites for info or for help with your own wiki!
ARK: Survival Evolved • Assassin's Creed • Bayonetta • The Binding of Isaac • Darksiders • Days Gone • Devil May Cry • Dragon's Crown • Fran Bow • God Eater • Grand Theft Auto • Gravity Rush • HITMAN • Horizon Zero Dawn • InFAMOUS • Just Cause • King's Quest • L.A. Noire • The Last of Us • Legacy of Kain • Legend of Zelda • LEGO Dimensions • LEGO Games • LEGO Marvel and DC • Lightseekers • Mafia • Metal Gear • Monster Hunter • Ninja Gaiden • Ōkami • Prince of Persia • Red Dead • Senran Kagura • Shenmue • Sleeping Dogs • Splinter Cell • System Shock • Tomb Raider • Uncharted • Watch Dogs • Yakuza
Want your community included? See how!

Ad blocker interference detected!
Wikia is a free-to-use site that makes money from advertising. We have a modified experience for viewers using ad blockers

Wikia is not accessible if you've made further modifications. Remove the custom ad blocker rule(s) and the page will load as expected.