Main games:

Spinoffs:
Media

Development

Events
Apprentice Initiative

Article Tutorials

Top Articles

Community

Follow Us

Article Improvement
Bureaucrats


Administrators

Rafiq


Rafiq (cont.)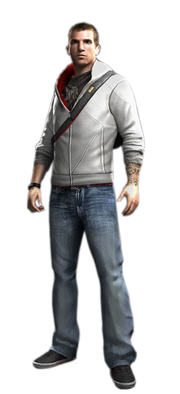 "In a few short months my life changed forever. I know my easiest days are behind me, but I don't want them back- not now. My name is Desmond Miles, and I am an assassin. I am an assassin."
―Desmond reflecting on the past in the Black Room.
Desmond Miles (born 13 March 1987) was a traveling hermit, and a descendant to various lines of ancestors who had sworn their allegiance to the Assassin Order, which included individuals such as Aquilus, Altaïr Ibn-La'Ahad and Ezio Auditore da Firenze.
In September 2012, he was kidnapped and incarcerated at Abstergo Industries, a Templar organization, and forced into a machine called the Animus to relive the memories of his ancestor, Altaïr Ibn-La'Ahad, in order to acquire a map detailing all "Pieces of Eden" spread across the Earth.
Eventually escaping with the aid of Lucy Stillman, Desmond once again used an Animus to explore the memories of Ezio Auditore da Firenze, so as to learn his skills and the ways of the Assassins through the bleeding effect. (read more...)

See all Featured Articles - Vote for Featured Articles
7,474 articles since July, 2007
24,684 images uploaded since July, 2007
52,000+ readers daily
4,281,900+ page views per month
622,000+ visits to the Assassin's Creed Wiki per month
124 user registrations since July, 2007
653,950 edits made since July, 2007
Do you want a modern day protagonist like Desmond in future games?
Do you want Ubisoft to continue releasing yearly installments?
Affiliates