Main games:

Spinoffs:
Media

Development

Events
Apprentice Initiative

Article Tutorials

Top Articles

Community

Follow Us

Article Improvement
Bureaucrats


Administrators

Rafiq


Rafiq (cont.)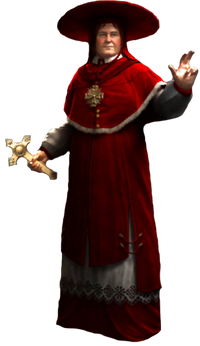 "The finer things in life make power so rewarding. I see an apple, I can pluck that apple. No one will stop me."
―Juan Borgia to a courtesan, 1503.
Juan Borgia the Elder (1446 - 1503) was one of Cesare Borgia's three generals, who ruled over Rome during the reign of Pope Alexander VI. He was the first Cardinal-nephew appointed by Alexander, and also a member of the Templar Order.
Often referred to as "the Banker", he handled Cesare's military funds and aided the Borgia's campaigns to subdue Italy for the Templars. However, he also spent a considerable amount of money throwing lavish, and often sexually-oriented, public parties. (read more...)

See all Featured Articles - Vote for Featured Articles
6,159 articles since July, 2007
22,499 images uploaded since July, 2007
52,000+ readers daily
4,281,900+ page views per month
622,000+ visits to the Assassin's Creed Wiki per month
125 user registrations since July, 2007
631,189 edits made since July, 2007
Do you want a modern day protagonist like Desmond in future games?
Do you want Ubisoft to continue releasing yearly installments?
Affiliates