Main games:

Spinoffs:
Media

Development

Events
Apprentice Initiative

Article Tutorials

Top Articles

Community

Follow Us

Article Improvement
Bureaucrats


Administrators

Rafiq


Rafiq (cont.)

"The hidden blade has been a constant companion of ours over the years. Some would say it defines us - and they would not be entirely wrong. Many of our successes would not have been possible without it."
―Altaïr Ibn-La'Ahad's Codex, page 13.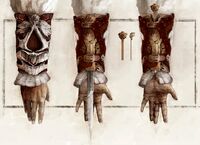 The iconic weapon of the Assassins, the Hidden Blade was used for both stealth assassinations and regular combat. It was their most versatile weapon, with multiple upgrades and forms of use.
It consisted of a retractable blade, usually in conjunction with a bracer, which could be discreetly extended or retracted; making it a valuable tool for assassinations. (read more...)

See all Featured Articles - Vote for Featured Articles



The encampment at Valley Forge




Shao Jun performing a Leap of Faith

To write a new article, just enter the article title in the box below. Don't forget to categorize them!

Not sure where to start?

Things that need improvement

Adding content

Community
8,046 articles since July, 2007
25,504 images uploaded since July, 2007
52,000+ readers daily
4,281,900+ page views per month
622,000+ visits to the Assassin's Creed Wiki per month
82 user registrations since July, 2007
668,913 edits made since July, 2007
Do you want a modern day protagonist like Desmond in future games?
Do you want Ubisoft to continue releasing yearly installments?
Affiliates