Home
Talk

204
5,414pages on
this wiki
Main games:

Spinoffs:
Media

Development

Events
Apprentice Initiative

Article Tutorials

Top Articles

Community

Follow Us

Article Improvement
Bureaucrats


Administrators

Rafiq


Rafiq (cont.)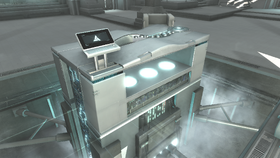 "You're inside the Animus. It's a projector which renders genetic memories in three dimensions."
―Warren Vidic to Desmond Miles, 2012.
The Animus (plural: Animi) is a virtual reality machine rediscovered, developed, and sold by Abstergo Industries. It allows the user to read a subject's genetic memory, and project it onto an external screen in three dimensions.
The machine was notably used in Abstergo's Animus Project and the Animi Training Program. The former analyzed the genetic memories of several select subjects, usually to gain information on the Assassin Order or on Pieces of Eden, while the latter was used for the training of Abstergo employees.
A newer model of the Animus, known as the Animus Omega, was developed and distributed commercially by Abstergo as an entertainment console. It was compatible with video games consisting of recorded memories. (read more...)

See all Featured Articles - Vote for Featured Articles



Yusuf Tazim preparing to show Ezio Auditore da Firenze the effectiveness of using bombs




Ezio Auditore hurled from his carriage after Leandros' men threw a bomb underneath it

To write a new article, just enter the article title in the box below. Don't forget to categorize them!

Not sure where to start?

Things that need improvement

Adding content

Community

5,414 articles since July, 2007
20,752 images uploaded since July, 2007
52,000+ readers daily
4,281,900+ page views per month
622,000+ visits to the Assassin's Creed Wiki per month
143 user registrations since July, 2007
607,011 edits made since July, 2007

Who is your favorite protagonist?
Where would you most like to see Assassin's Creed go in the future?
Affiliates