Main games:

Spinoffs:
Media

Development

Events
Apprentice Initiative

Article Tutorials

Top Articles

Community

Follow Us

Article Improvement
Bureaucrats


Administrators

Rafiq


Rafiq (cont.)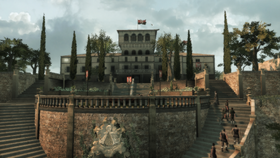 "A key force in the protection of Monteriggioni for hundreds of years and a source of great architectural innovation..."
―Commemorative plaque for the Villa Auditore, 2012.
The Villa Auditore was a familial home and stronghold of the Auditore family, located within the city of Monteriggioni.
Purchased by the family sometime after 1321, it remained the home to the Auditore up until the turn of the 16th century, when it was heavily damaged during the siege of Monteriggioni. (read more...)

See all Featured Articles - Vote for Featured Articles
5,983 articles since July, 2007
21,720 images uploaded since July, 2007
52,000+ readers daily
4,281,900+ page views per month
622,000+ visits to the Assassin's Creed Wiki per month
121 user registrations since July, 2007
622,643 edits made since July, 2007
Do you want a modern day protagonist like Desmond in future games?
Do you want Ubisoft to continue releasing yearly installments?
Affiliates