Home
Talk

106
4,606pages on
this wiki
Main games:

Spinoffs:
Media

Development

Events
Apprentice Initiative

Article Tutorials

Top Articles

Community

Follow Us

Article Improvement
Bureaucrats


Administrators

Rafiq


Rafiq (cont.)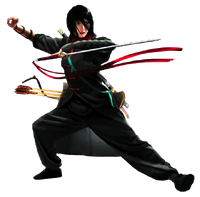 "I have traveled a long time, followed many roads and suffered much grief to find him. To learn his secrets before our enemies find us."
―Shao Jun regarding her search for Ezio Auditore.
Shao Jun (1505 - unknown) was an Assassin from the Chinese branch of the Order. A former concubine for Emperor Zhengde, she was rescued by the Assassins after the emperor's death, and had devoted her life into the Order afterwards.
After some years, Zhengde's successor, Jiajing, ordered a purge of those who opposed him, the Assassins being among them. After the order's decline in China, Shao Jun and her Mentor fled west and sought out the Italian Assassin Mentor, Ezio Auditore da Firenze. (read more...)

See all Featured Articles - Vote for Featured Articles



Yusuf Tazim preparing to show Ezio Auditore da Firenze the effectiveness of using bombs




Ezio Auditore hurled from his carriage after Leandros' men threw a bomb underneath it

To write a new article, just enter the article title in the box below. Don't forget to categorize them!

Not sure where to start?

Things that need improvement

Adding content

Community

4,606 articles since July, 2007
17,079 images uploaded since July, 2007
52,000+ readers daily
4,281,900+ page views per month
622,000+ visits to the Assassin's Creed Wiki per month
398 user registrations since July, 2007
524,071 edits made since July, 2007
Who is your favorite protagonist?
Where would you most like to see Assassin's Creed go in the future?
Affiliates