Main games:

Spinoffs:
Media

Development

Events
Apprentice Initiative

Article Tutorials

Top Articles

Community

Follow Us

Article Improvement
Bureaucrats


Administrators

Rafiq


Rafiq (cont.)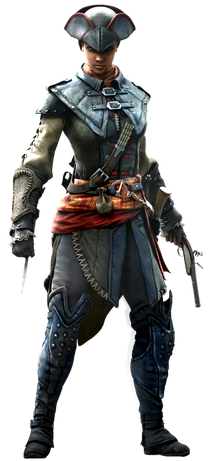 "I stand with those who stand with me. I lure my prey through the guise of a lady. I escape unnoticed through the veil of a slave. And though I may conceal my identity, one thing is certain: commit injustice in this world, and I'll send you to the next. I am Aveline de Grandpré, I am an Assassin, and I fight for liberation."
―Aveline de Grandpré.
Aveline de Grandpré (1747 – unknown) was an Assassin of French and African heritage, who lived in the area of New Orleans during the middle of the 18th century. She is an ancestor to "Subject 1".
Born to the wealthy French merchant Philippe de Grandpré and an African slave by the name of Jeanne, Aveline was raised in a comfortable and privileged environment. After her mother disappeared in 1757, Aveline was cared for and brought up by her stepmother, Madeleine de L'Isle, whom her father had married five years prior.
Shrewd by nature, Aveline noticed the contrasts present within the society she lived in and, at the age of twelve, resolved to act against this injustice. Following an attempt to rescue a man from enslavement, she met the Assassin Agaté, who was impressed by her dedication to pursuing freedom. He decided to take Aveline under his wing, training her to become an official member of the Brotherhood. (read more...)

See all Featured Articles - Vote for Featured Articles
8,353 articles since July, 2007
26,114 images uploaded since July, 2007
52,000+ readers daily
4,281,900+ page views per month
622,000+ visits to the Assassin's Creed Wiki per month
83 user registrations since July, 2007
684,643 edits made since July, 2007
Do you want a modern day protagonist like Desmond in future games?
Do you want Ubisoft to continue releasing yearly installments?
Affiliates
Action-Adventure Games
Go to these sites for info or for help with your own wiki!
Assassin's Creed • Bayonetta • The Binding of Isaac • Darksiders • Devil May Cry • Dragon's Crown • Fran Bow • God Eater • Grand Theft Auto • Gravity Rush • Just Cause • King's Quest • HITMAN • L.A. Noire • The Last of Us • Legacy of Kain • Legend of Zelda • LEGO Dimensions • Lightseekers • The Longest Journey • Mafia • Metal Gear • Monster Hunter • Ninja Gaiden • Ōkami • Prince of Persia • Red Dead • Senran Kagura • Shenmue • Sleeping Dogs • Splinter Cell • System Shock • Tomb Raider • Uncharted • Watch Dogs • Yakuza
Want your community included? See how!

Ad blocker interference detected!
Wikia is a free-to-use site that makes money from advertising. We have a modified experience for viewers using ad blockers

Wikia is not accessible if you've made further modifications. Remove the custom ad blocker rule(s) and the page will load as expected.