Main games:

Spinoffs:
Media

Development

Events
Apprentice Initiative

Article Tutorials

Top Articles

Community

Follow Us

Article Improvement
Bureaucrats


Administrators

Rafiq


Rafiq (cont.)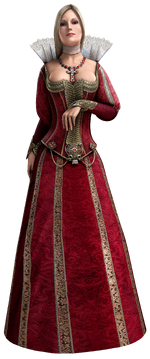 "Rodrigo surrounds himself with snakes and murderers. Even his daughter Lucrezia has been sharpened into one of his most artful weapons."
―Niccolò Machiavelli, 1500.
Lucrezia Borgia (1480 – 1519) was the illegitimate daughter of Rodrigo Borgia, and the younger sister of Cesare Borgia. She was a member of the Templar Order, and later became the Duchess of Ferrara.
During her lifetime, Lucrezia was ruthlessly betrothed by her father twice before her thirteenth birthday, in order to secure political alliances. She was also rumored to have been sexually abused by her father and brothers.
Lucrezia later assisted Rodrigo and Cesare in their attempt to keep Rome under their control, mainly by monitoring the events that took place when her father and brother were away or unavailable. She was also responsible for Caterina Sforza, the Duchess of Forlì, when she was imprisoned in the Castel Sant'Angelo. (read more...)

See all Featured Articles - Vote for Featured Articles



Mary Read revealing herself to be a woman to Edward Kenway




Charles Dorian talking to his son Arno in the Palace of Versailles

To write a new article, just enter the article title in the box below. Don't forget to categorize them!

Not sure where to start?

Things that need improvement

Adding content

Community

5,901 articles since July, 2007
21,631 images uploaded since July, 2007
52,000+ readers daily
4,281,900+ page views per month
622,000+ visits to the Assassin's Creed Wiki per month
163 user registrations since July, 2007
619,309 edits made since July, 2007
Where would you most like to see Assassin's Creed go in the future?
Who is your favorite protagonist?
Affiliates