Home
Talk

106
4,622pages on
this wiki
Main games:

Spinoffs:
Media

Development

Events
Apprentice Initiative

Article Tutorials

Top Articles

Community

Follow Us

Article Improvement
Bureaucrats


Administrators

Rafiq


Rafiq (cont.)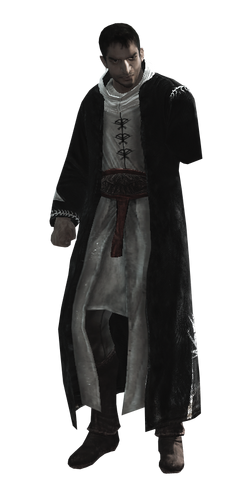 "We are one. As we share the glory of our victories, so too should we share the pain of our defeat. In this way we grow closer. We grow stronger."
―Malik talking about the event in Solomon's Temple.
Malik Al-Sayf (1165 – 1228) was a member of the Assassin Order in Syria during the High Middle Ages.
Raised to be an Assassin, Malik learned the fighting arts that struck fear into the hearts of their enemies. He was an excellent swordsman and a devoted acolyte to the Creed, as well as a caring adult figure for his brother, Kadar.
Malik nurtured a jealousy of his rival Altaïr, which was fired into rage when Altaïr ignored the tenets of the Creed, and endangered his companions' lives during the events of Solomon's Temple. Malik retrieved the Templar treasure that Altaïr had failed to find, and delivered it to Al Mualim.
Altaïr made Malik his close second-in-command after becoming the Mentor. As such, Malik was eventually appointed as a temporary leader in Altaïr's absence.
Sometime after this, a hated rival of Altaïr's, Abbas Sofian, imprisoned Malik in Masyaf's dungeons for close to two years with false charges of murder, and had him beheaded when Altaïr returned from his quest across the Middle East. Malik's death occurred during 1228. (read more...)

See all Featured Articles - Vote for Featured Articles



Ezio Auditore da Firenze observing one of Constantinople's districts




Ezio Auditore and his apprentices, dealing with the guards

To write a new article, just enter the article title in the box below. Don't forget to categorize them!

Not sure where to start?

Things that need improvement

Adding content

Community

4,622 articles since July, 2007
17,099 images uploaded since July, 2007
52,000+ readers daily
4,281,900+ page views per month
622,000+ visits to the Assassin's Creed Wiki per month
391 user registrations since July, 2007
524,924 edits made since July, 2007
Who is your favorite protagonist?
Where would you most like to see Assassin's Creed go in the future?
Affiliates