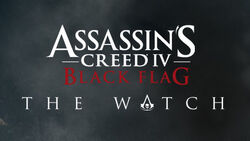 Assassin's Creed IV: Black Flag – The Watch was a featured VIP program offered exclusively to those who had pre-ordered a copy of Assassin's Creed IV: Black Flag from select retailers.
The VIP program could only be accessed through a special pre-order code, which can be found on the receipt for those who made a monetary claim on their copy of Assassin's Creed IV: Black Flag through selected retailers, online stores, or through Uplay in Europe, the Middle East and Africa and who were invited to The Watch by their friend.
Authorization to this special program allowed players to gain additional information about Assassin's Creed, exclusive content, meet other members who share their passion for the Assassin's Creed universe and get exclusive in-game content on the game's release.
Ranks
Get rewards by points and badges that increase your rank.
Recruit - 0 to 3000 points
Novice - 3001 to 10000 points
Disciple - 10001 to 50000 points
Assassin - 50001 to 100000 points
Master Assassin - More than 100000 points
Badges
| Icon | Name | How to obtain |
| --- | --- | --- |
| | Master of the Watch | The more content you look at on The Watch, the more points and new badges you'll get. |
| | Master of the Book | Get rewarded for your knowledge of Assassin's Creed, each correct answer will get you 100 points. |
| | Master of the Arts | Share your best fanart on The Watch. Get likes to get points! |
| | Master of Disguise | Share your greatest cosplay on The Watch. Get likes to get points! |
| | Master of Rumors | Spread the word from The Watch on social networks: the more you share, the more points you'll get! |
| | Master of Recruitment | Invite your friends to earn points and get new badges. |
| | Master of Compass | The more coordinates you find, the more points you earn. |
| | Master of the Codex | Solve puzzles to earn points and get new badges. |
References