Assassin's Creed Conspirations Volume 1: Die Glocke
Talk

0
Share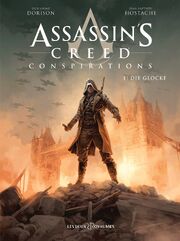 Assassin's Creed Conspirations Volume 1: Die Glocke, is the first volume of Assassin's Creed: Conspirations, a two-part story published in French by Les Deux Royaumes.
Following the end of the first cycle by Corbeyran and Defali, Die Glocke is written by Guillaume Dorison and illustrated by Jean-Baptiste Hostache, and was released in October 2016.
The story is set during World War II, featuring the race for the Atomic Bomb, and follows a new Assassin hero who influences the course of history in 1943.
New era - New adventure - New Assassin. Europe, World War II. On the sidelines of the race for the atomic bomb, discover the story of Eddie Gorm and his integration into the Assassin Brotherhood while he infiltrates the Templars to foil their plan to create a devastating weapon.
"Die Glocke" (English: the bell) was a purported top secret Nazi technological device or secret weapon that was developed during the War.
Reference
Edit
Ad blocker interference detected!
Wikia is a free-to-use site that makes money from advertising. We have a modified experience for viewers using ad blockers

Wikia is not accessible if you've made further modifications. Remove the custom ad blocker rule(s) and the page will load as expected.