He who increaseth knowledge, increaseth sorrow.


This article contains spoilers, meaning it has information and facts concerning recent or upcoming releases from the Assassin's Creed series.
If you do not want to know about these events, it is recommended to read on with caution, or not at all.
Assassin's Creed: Uprising is an on-going comic book series published by Titan Comics.
Announced as a relaunch of both Assassin's Creed: Assassins and Assassin's Creed: Templars as one book during the NYCC 2016, the comic is written by Dan Watters and Alex Paknadel and illustrated by José Holder with the first issue expected in February 2017.
The series will mark the end of the Phoenix Project storyline which began in Assassin's Creed: Unity.[1]
Press release
Edit
Kicking off in February, the series will follow the ongoing Phoenix Project storyline, and feature several characters from "Assassin's Creed" lore, including Juhani Otso Berg, Galina Voronina, Kiyoshi Takakura and Arend Schut, in addition to Charlotte de la Cruz and Black Cross from Titan's current "Assassin's Creed" & "Templars" comics.
In the first arc, tensions are running high for both the Brotherhood and the Templar Order. A nefarious new world order is on the horizon and only a united team of Assassin's have the knowledge and skill to save humanity from subjugation.[2]
Common Ground
Edit
05/07/2017 - An all-new story arc starts this issue! Giving fresh insights into characters from the vast Assassin's Creed universe, including Juhani Otso Berg, Galina Voronina, Kiyoshi Takakura and Arend Schut. Writers Alex Paknadel (Arcadia, Doctor Who) and Dan Watters (Limbo, Dark Souls) return along with Assassin's Creed storyboard artist José Holder!
2017: Assassin hideout, London. Charlotte confronts a bound Guernica, and offers to get him some water despite his attempt to kill her before. In the next room, Arend is on the phone to Abstergo tech support, trying to warn them very bluntly that they have a First Civilization entity amongst their systems. Unsurprisingly they hang up on him.
Whilst Kiyoshi and Charlotte berate Arend for his literal interpretation of warning the Templars, Galina returns to the hideout with supplies and clothes. Shortly after My'Shell stumbles through the door, carrying a wounded Otso Berg. Galina immediately springs her hidden blade and floors Berg with a flying kick to the face. After Galina is restrained by Charlotte, Berg offers a suggestion that they all get breakfast together.
After a lengthy discussion, he confesses that he came across the same financial movements between the Templars and Assassins, and that the mystery third faction really is playing them all for fools. With Abstergo compromised, he cannot even trust his own faction. Kiyoshi reveals that they believe Guernica to be a member of the faction, to which Berg responds that he knows Jasdip Dhami is another - and the face behind the high tech armor set. Galina states that Jasdip went dark after exploring for Gramatica in Australia, suggesting that may be where his secret lab is. Berg laughs the suggestion off as a nice try, and argues that whilst he cannot trust the Assassins - that is exactly the reason he needs their help. Charlotte interjects, and warns them all that Juno's plan for the Koh-i-noor is moving forwards and that they need to act together and fast. Old rivalries can wait. Berg realises that the Assassins know where the Koh-i-noor is.
They return to the hideout, and Charlotte straps herself into the Animus once more. She reveals to Berg that they believe the Piece of Eden is in Spain, within the 1930s Spanish Civil War. As she enters the simulation, My'Shell confronts Guernica. It is clear she never knew his true agenda, and was never a member of the secret faction to which he belongs. She leaves the room in disgust.
April 1937: Spain. Ignacio Cardona, an anarchist and follower of Buenaventura Durruti, he is also an Assassin and ancestor to Charlotte. He walks the countryside hills in heavy rain, heading towards Barcelona with fellow soldiers. They elect to set up camp as night falls, but are suddenly ambushed by gun fire. Ignacio runs out to meet the assailants only to find that they are Republicans too, and it was a simple case of mistaken identity by child soldiers.
2017: Berg laments that the Assassins are keeping him at arm's length whilst they scour their records for anything pertaining to 1930s Spain. He points out that the Templars have records for that period too, and after a brief philosophical discussion on the merits of the march of progress, they come across a photograph of Ignacio and his army unit. Standing next to him is a man that Berg recognises - Albert Bolden, the last Black Cross![4]
02/08/2017 - Second installment of the brand-new story arc in the critically acclaimed Uprising series.
May 1937: Barcelona, Spain. The Assassins Ignacio Cardona and Glaucia Acosta hide out amongst the war ruined buildings. They share cigarettes whilst they discuss why Glaucia cannot sleep, as it turns out she is haunted by a recent bombing raid at the northern town of Guernica. They are interrupted by a noise, at which point Glaucia lets loose several throwing knives at an unknown man in a trenchcoat. Wounded, the man runs to the rooftops with Glaucia in pursuit. She eventually catches up with the two of them coming crashing down through a broken roof. He reveals himself to be Nobby Clarke, an Assassin sent to them from the London Brotherhood.
Safely returned to their hideout, the Spanish Assassins grill Nobby as to why he is the only backup that was sent considering how desperate they are for help. Nobby reveals that he infamously eliminated an entire Templar branch in Tallinn the previous year, which instantly wins him the approval of the Spaniards.
2017: Charlotte desyncs from the Animus, and is violently sick. She seeks an explanation, as Kiyoshi laments that she entered the Animus too soon after Juno's attack. Charlotte feels that something forced her out of the Animus, and states that having Otso Berg watching her was not helping - and in turns asks him to leave the room. Kiyoshi escorts him upstairs, only to find Galina in the next room brutally interrogating Guernica once more. Charlotte reenters the Animus.
May 1937: Ignacio requests that the team train with Nobby on the rooftop to see his skills first hand. In the mean time he ventures out to try and find new weaponry, as their current ones are in a bad state of repair. He meets Eric Blair, an englishman and member of Poum - a Spanish Marxist party. They discuss the way that the class system has reintegrated itself in the city, and how the only items for sale are non-weapons, despite the civil war still raging. Eric has some black market contacts though, and promises to introduce Ignacio to them. Shortly after entering a shop, gunshots ring out and Ignacio takes to the rooftops.
Meanwhile, Nobby and the Spanish Assassins continue to spar on the roof of their hideout, while discussing the split between the anarchists and communists within the community. At this point Ignacio runs past the group, insisting they all follow. They reach a fevered gun battle between anarchists and communists, with the team torn as to who to help with a mind to whom of the two would able to ultimately stop the fascists. Nobby offers an alternative, telling Ignacio that he can make everyone stop - and pulls the Koh-i-Noor out of his pocket. Ignacio states that he feels it calling to him and touches the diamond. Immediately his eyes glow with a blue energy, and serpent like creatures of energy emerge from the Koh-I-Noor, encircling and wrapping themselves around everyone. With blood pouring from his eyes and nose, he finds the strength to drop the diamond and passes out. From a nearby rooftop, the Black Cross observes everything that has transpired.
2017: Charlotte begans chewing and biting her own tongue, with blood spraying onto the Animus. Arend is unsure what to do whilst she remains within the simulation, but warns My'Shell to remain back. My'Shell counters by saying he should let her through or that Charlotte will surely die.[4]
06/09/2017 - Giving fans fresh insights into characters from the vast Assassin's Creed universe, including Juhani Otso Berg, Galina Voronina, Kiyoshi Takakura, and Arend Schut.
11/10/2017 - Final installment of this story arc in the critically-acclaimed uprising series! Writers Alex Paknadel (Arcadia, Doctor Who) and Dan Watters (Limbo, Dark Souls) along with Assassin's Creed storyboard artist Jose Holder!
Collected editions
Edit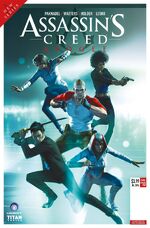 Before its eventual release as Uprising, the series was listed as both Assassin's Creed: Apogee and Assassin's Creed: Defiance. An apogee is the highest point, the climax/culmination, of a development.
References
Edit
Ad blocker interference detected!
Wikia is a free-to-use site that makes money from advertising. We have a modified experience for viewers using ad blockers

Wikia is not accessible if you've made further modifications. Remove the custom ad blocker rule(s) and the page will load as expected.