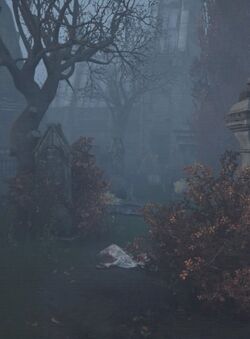 Annie Chapman (1841 – 8 September 1888), born Eliza Ann Smith, was a British prostitute active in the late 19th century, known for being the second victim of the notorious serial killer Jack the Ripper.
Biography
Edit
On 1 May 1869, Annie married her relative John Chapman, a coachman at All Saints Church in London's Knightsbridge district. The couple then moved to Whitechapel in 1886.
With her husband's death, Annie turned to prostitution, believing that she would not earn any income with other jobs. She joined one of Lady Olwyn Owers' brothels. She then spent her time without a proper home, and usually stayed at the Crossingham's lodging house at 35 Dorset Street where she paid eight pence a night for a double bed.
During the Master Assassin Evie Frye's investigation of her murder, the crime scene suggested that the real Annie may have been replaced by one of her brother Jacob's Assassin initiates.
Reference
Edit
Ad blocker interference detected!
Wikia is a free-to-use site that makes money from advertising. We have a modified experience for viewers using ad blockers

Wikia is not accessible if you've made further modifications. Remove the custom ad blocker rule(s) and the page will load as expected.