Animi Avatars (first stage)
Talk

21

Ezio, my friend! How may I be of service?


This article is in desperate need of a revamp. Please improve it in any ways necessary in order to achieve a higher standard and follow our Manual of Style.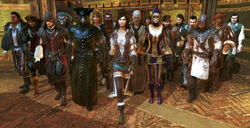 With Lucy Stillman's failure to obtain the Apple of Eden for the Templars, Warren Vidic initialized the Animi Training Program, a project to train Abstergo Industries' agents with the skills necessary to combat the Assassins.
Contained within the program were the genetic record of influential Templars and individuals, also referred to as Animi Avatars, with there being 21 available for use (in total) in the first stage. A few of the Avatars' counterparts were also present as targets for Ezio Auditore to kill during the Renaissance in Rome, as a part of Templar agent side memories.
Animi Avatars
Edit
There were three civilian types in the first stage of the Animi Training Program, being heralds, merchants, and performers, and each were displayed in multiple variations.
Every Animi Avatar, aside from the Thief and the four Da Vinci Disappearance Avatars, featured in the first chapter of the Rome pack in Assassin's Creed: Project Legacy.
When killed in the single player, Templar agents entered the Memory Corridor, but they did not converse with Ezio, unlike the main assassination targets.

As well as this, the Templar agents did not use the weapons that their Animi Avatar counterparts used in the Animi Training Program.

Despite having their own unique moves, Animi Avatars could all break their target's necks in the same fashion as one another.
Reference
Edit