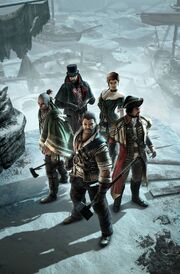 After the successful training of one of Abstergo Industries' recruits to the rank of Master Templar,[1] the Templar-owned company began a new initiative to distribute their Animus software to modern-day households across the world, in the form of a games console, under the guise of "Abstergo Entertainment".
As a result, the general public were exposed to the genetic memories of various Templars, Assassins, and non-affiliated individuals during the American Revolution, through digital personas known as Animi Avatars.[2]
Animi Avatars
References
Ad blocker interference detected!
Wikia is a free-to-use site that makes money from advertising. We have a modified experience for viewers using ad blockers

Wikia is not accessible if you've made further modifications. Remove the custom ad blocker rule(s) and the page will load as expected.