He who increaseth knowledge, increaseth sorrow.


This article contains spoilers, meaning it has information and facts concerning recent or upcoming releases from the Assassin's Creed series.
If you do not want to know about these events, it is recommended to read on with caution, or not at all.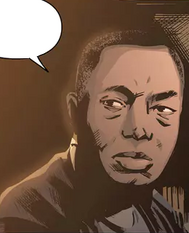 André "Dre" Bolden (born 1944) is an elderly Afro-American veteran hailing from Baltimore who was recruited by Abstergo to explore the history of his family, which counted many Black Crosses.
Biography
Edit
Early life
Edit
A veteran of the Vietnam War, Bolden received a Purple heart, but suffered from PTSD due to some actions he committed during the War. A decade after his return, he fell in love with a woman and adopted her daughter, but because of his troubles she later left him with their daughter. By 2016, André hadn't seen either of them for ten years.
Working for Berg
Edit
In 2016, Bolden was approached by the Templars who lied to him, pretending to wish to cure him of his PTSD because Abstergo cared about the veterans while their true goal was to have access to his DNA. After he accepted their offer, the Templars brought André to their Philadelphia facility, where the old man was greeted by Juhani Otso Berg and his team before being put into an Animus.
Now in 1805, André witnessed the meeting between Jan van der Graff, a Dutch agent of Napoleon Bonaparte and Black Cross Solomon Bolden aboard a ship sailing for Libya on the Barbary Coast. During the session, André witnessed the two men fighting against pirates sent after the Templar by the Sultan before they decided to make an alliance. The slaver would help van der Graff to accomplish his mission and the Dutchman would make him enter into the Sultan's palace.
Waking up and realizing that he had been deceived, Bolden, somehow reinvigorated by the Bleeding Effect neutralized two men before fleeing the complex. Later, Berg found his trace back into a hotel and convinced André to continue exploring the memories of his ancestor.
Reference
Edit
Ad blocker interference detected!
Wikia is a free-to-use site that makes money from advertising. We have a modified experience for viewers using ad blockers

Wikia is not accessible if you've made further modifications. Remove the custom ad blocker rule(s) and the page will load as expected.