Patience, brothers. Soon we will reveal the secrets of Assassin's Creed: Origins.


This article has been identified as being out of date. Please update the article to reflect recent releases and then remove this template once done.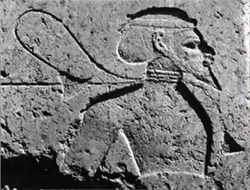 Amenhotep III (c. 1388 BCE – 1353 or 1351 BCE) was the ninth Pharaoh of the Eighteenth dynasty of Egypt. Under his rule, Egypt entered an age of prosperity and artistic splendour, reaching the peak of its artistic and international power. He was later succeeded by Akhenaten.
In 2012, Clay Kaczmarek included Amenhotep in one of the Glyphs inside the Animus for Desmond Miles to find.
Gallery
Reference