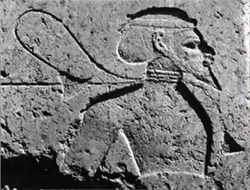 Amenhotep III (c. 1388 BCE – 1353 or 1351 BCE) was the ninth Pharaoh of the Eighteenth dynasty of Egypt. Under his rule, Egypt entered an age of prosperity and artistic splendour, reaching the peak of its artistic and international power. He was later succeeded by his son, Akhenaten.
During his reign, Amenhotep built a mortuary temple in the Theban Necropolis across the Nile, along with two giant statues in his image.[1]
In 2012, Clay Kaczmarek included Amenhotep in one of the Glyphs inside the Animus for Desmond Miles to find.[2]
Gallery
Appearance
References