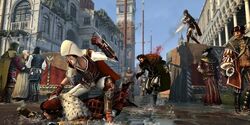 Alliance was a co-operative training simulation that was utilized to train recruits, existing solely in the primary stage of Abstergo Industries' Animi Training Program.
In this mode, three teams of two competed against each other in a cyclical manner, in order to gain the most points and emerge victorious. Typically, Alliance sessions lasted 10 minutes, which were split into two rounds, similar to that of Manhunt.
Gameplay and variations
Alliance
Alliance worked on the basis of three two-man teams, to which each pair shared one Animi Avatar. Separated into two rounds, much like Manhunt, each team was required to hunt down one pair while avoiding the other. In this regard, the objective of Alliance was to assassinate a team's targets by working together skillfully.
Advanced Alliance
Introduced in Animus Project Update 1.0, Advanced Alliance played out similarly to its basic counterpart, with the exception of the reduced effectiveness of the compass, as it did not hint towards the target's elevation, which added a greater emphasis on stealth gameplay.
Gallery
Reference