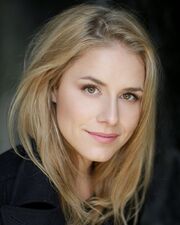 Alix Wilton Regan is an English actress and model who will be providing the voice of Aya in Assassin's Creed: Origins.
Alix has previously appeared on or provided character voices for television shows including The Brave, The Amazing World of Gumball, Obsession: Dark Desires, and Crossing Lines. Her extensive voice work for video games includes Divinity: Original Sin II, Warhammer: End Times - Vermintide, multiple Dragon Age titles, LittleBigPlanet 3, Mass Effect 3, Risen, and RuneScape.
External links
Ad blocker interference detected!
Wikia is a free-to-use site that makes money from advertising. We have a modified experience for viewers using ad blockers

Wikia is not accessible if you've made further modifications. Remove the custom ad blocker rule(s) and the page will load as expected.