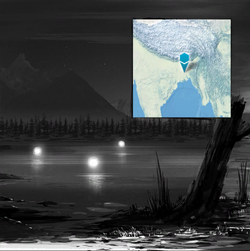 Aleya is the name given to an unexplained strange light phenomena occurring over the marshes as observed by the Bengali people, especially the fishermen of West Bengal and Bangladesh. According to fishermen, these ghost lights have the power to distract, waylay, and even compel victims to drowning, but have also proven useful as navigational aids.
In 2013, researchers at Abstergo Industries suggested paying more attention to the ghost lights, believing that they may have a connection to the Isu.
Reference
Edit
Ad blocker interference detected!
Wikia is a free-to-use site that makes money from advertising. We have a modified experience for viewers using ad blockers

Wikia is not accessible if you've made further modifications. Remove the custom ad blocker rule(s) and the page will load as expected.