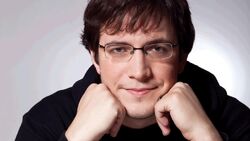 Alexandre Breault is a former Game Designer at Ubisoft.
Biography
Edit
He completed his Master Degree in Film Study at the Université de Montréal in 2004. He then joined Ubisoft as a Game Designer in 2005.
During his time there, he participated in the design of Far Cry Instincts: Evolution, Lost: Via Domus, Naruto: The Broken Bond, Assassin's Creed II, Assassin's Creed: Brotherhood, and James Cameron's Avatar: The Game. Assassin's Creed: Revelations was his first game as Lead Game Designer and as a Game Design Director.
Along with Alexandre Amancio, he was responsible for coordinating all six development studios involved in Assassin's Creed: Revelations.
Assassin's Creed: Revelations was to be both Alexandre Amancio and his final development project at Ubisoft Montreal before leaving the company.
External links
Edit