Alexander the Great
Talk

12
5,414pages on
this wiki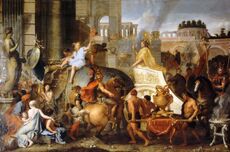 Alexander III of Macedon (20/21 July 356 BCE – 13 June 323 BCE[1]), commonly known as Alexander the Great, was a King of Macedonia, and one of the most successful conquerors in history.
Alexander the Great's empire was backed by the Templars, who had entrusted him with a Staff of Eden, explaining why Alexander was able to become so successful and undefeated.[2][3]
Alexander died on 13 June 323 BCE in the palace of Nebuchadnezzar II,[1] as a result of a poison administered by the Babylonian Assassin Iltani,[4] who retrieved the Staff in the process.[1]
References
Edit