Here we seek to open the minds of men.


This article is a stub and is in need of expansion. You can help the Assassin's Creed Wiki by expanding it.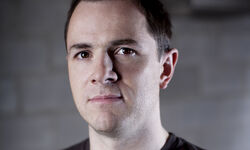 Alex Hutchinson was the Creative Director of the Ubisoft game, Assassin's Creed III, before adopting the same role for the game Far Cry 4.
Having previously worked upon Spore for Maxis and Army of Two for Electronic Arts, Alex Hutchinson has also developed for a majority of Game Boy Advance games during his early career, along with writing various pieces for games in magazines.
Games credited
Army of Two (2008) – Electronic Arts
Spore (2008) – Maxis
Assassin's Creed III (2012) – Ubisoft
Far Cry 4 (2014) – Ubisoft
External links