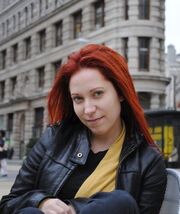 Aleissia Laidacker is currently the team lead for AI and gameplay on Assassin's Creed III at Ubisoft Montreal.[1]
Biography
Edit
Laidacker has been working in the programming field for 11 years with a BS in Computer Science from Concordia University, with a Double Major in Digital Image Sound and The Fine Arts (2004 – 2008), where she specialized in 3D Animation.
After working on various interactive installations and programming projects, she joined Ubisoft as an AI/Behavior Programmer. After some years at Ubisoft, some of her credited games include Assassin's Creed II and Assassin's Creed: Brotherhood. In 2011, she was a GDC speaker for the session entitled "Living Crowds: AI & Animation in Assassin's Creed: Brotherhood".[2]
Games credited
Edit
Shaun White Snowboarding (2008) - Ubisoft
Lost: Via Domus (2008) - Ubisoft
Assassin's Creed II (2009) - Ubisoft
Assassin's Creed: Brotherhood (2011) - Ubisoft
Assassin's Creed III (2012) - Ubisoft
External links
Edit
References
Edit
Ad blocker interference detected!
Wikia is a free-to-use site that makes money from advertising. We have a modified experience for viewers using ad blockers

Wikia is not accessible if you've made further modifications. Remove the custom ad blocker rule(s) and the page will load as expected.