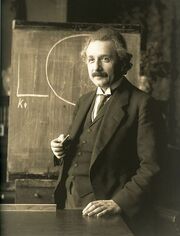 Albert Einstein (14 March 1879 – 18 April 1955) was a German-born theoretical physicist best known for developing the theory of general relativity.
While working at a patent office in Bern, Einstein would also draw inspirations to his theory.[1] In 2012, he was included in one of Clay Kaczmarek's Rifts inside the Animus,[2] and the Helix database later described him as the man with the best ability to explain the universe.[3]
References
Edit
Ad blocker interference detected!
Wikia is a free-to-use site that makes money from advertising. We have a modified experience for viewers using ad blockers

Wikia is not accessible if you've made further modifications. Remove the custom ad blocker rule(s) and the page will load as expected.