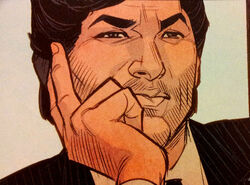 Ajay Rana is the founder of the Indian company MysoreTech. In 2013, he landed a multi-million dollar contract with Abstergo Entertainment for the launch of a new virtual entertainment product on the Asian market, released in the west as the Animus.[1]
He appeared in an interview with a newspaper from Goa on 25 September 2013, revealing information about his company's new product.[2]
Reference
Characters
Factions
Locations
Terms and concepts
Ad blocker interference detected!
Wikia is a free-to-use site that makes money from advertising. We have a modified experience for viewers using ad blockers

Wikia is not accessible if you've made further modifications. Remove the custom ad blocker rule(s) and the page will load as expected.