Adolf Hitler
Talk

13
4,815pages on
this wiki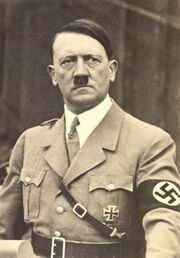 Adolf Hitler (20 April 1889 – 30 April 1945) was an Austrian-born German politician, and the leader of the National Socialist German Workers Party, also known as the Nazi Party.
He was Chancellor of Germany from 1933 to 1945, head of state from 1934 to 1945, and a Templar puppet.
Biography
Hitler received a Piece of Eden from his fellow Templar, Henry Ford, which he used to lead Nazi Germany into war. Though history would say that World War II was a conflict between the Allied and Axis Powers, the war was actually engineered by an outside force, as the leaders of both sides of the war (Hitler among them) had been secretly influenced by the Templars.
On 30 April 1945, Soviet armies encircled Berlin – the German capital – and it was declared that Hitler committed suicide in his bunker by a pistol shot to the head. However, Hitler was actually replaced by a body double, and he was to meet up with the other Templar-influenced leaders of the war: Churchill, Roosevelt, and Stalin. However, the Assassins had been watching the bunker, and killed Hitler as he left, ending World War II in Europe and resulting in the Nazis' downfall.
Trivia
Historically, Hitler won the Iron Cross twice during World War I for bravery. The Iron Cross resembles, in this instance, the mark of Cain, and the Teutonic cross.
Hitler planned to revive the Knights Teutonic, as he greatly admired their work during the Crusades.
Reference