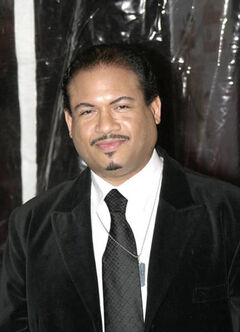 Adam Alexi-Malle, born Juan-Paolo Perre, is an Italian actor who emigrated from London, United Kingdom, to the United States. He provided his voice acting talents for Assassin's Creed: Revelations, as well as voicing authentic Turkish, French and Farsi for his various roles.
Biography
The fluently multi-lingual Alexi-Malle, who credited part of his wide-ranging creativity to his exotic, cultural and spiritual heritage, is known for both his work in theatre, film and television. He has starred in such films as Bowfinger, The Man Who Wasn't There, Hidalgo, Celebrity and Failure To Launch, along with numerous guest starring roles in television including The Sopranos, The West Wing, Alias and 24.
As well as this, Adam had starred on stage in the Tony Award winning/nominated Broadway productions of Titanic and The Threepenny Opera, and starred opposite Sam Rockwell and Cara Seymour in the critically acclaimed off-Broadway premiere of Mike Leigh's Goose-Pimples with The New Group theatre in New York City, garnering nominations as Outstanding Featured Actor with both the Drama Desk and Outer Critics Circle Awards.
Assassin's Creed works
Assassin's Creed: Revelations (2011) - various voices.
External links