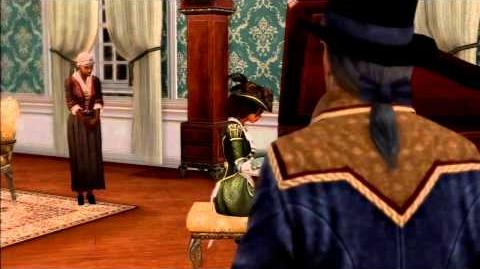 Voiceover: Initial reports on Aveline de Grandpré led us to believe she would be too controversial and impulsive to appeal to a wider audience. Teenaged memories show her brainwashed, and trained to kill political foes of her highly unstable Mentor, Agaté. Additionally, Aveline spent a disappointing amount of time in the Louisiana Bayou, consorting with smugglers of the lowest kind.
Roussillon: Oh, I try never to think.
Voiceover: Which we felt risked her appeal to our female audience, which is now approaching fifty percent. However, as Aveline matured, a new side emerged – a well-mannered and considerate lady of poise and compassion. Aveline came to embrace a new mentor: her stepmother, Madeleine de L'Isle, a tireless fighter for the rights of slaves.
Aveline: Thank you, Madeleine!
Voiceover: With some editing to prioritize this relationship, we feel Aveline's story will more than meet our needs. Our team recommends a GO on this property. Get this one to market quickly.
Ad blocker interference detected!
Wikia is a free-to-use site that makes money from advertising. We have a modified experience for viewers using ad blockers

Wikia is not accessible if you've made further modifications. Remove the custom ad blocker rule(s) and the page will load as expected.